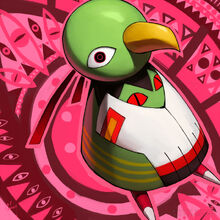 Description
Xatu is known to stand motionless while staring at the sun all day long, which people believe that this Pokémon does so out of fear of the terrible things it has foreseen in the future. They also say that it stays still and quiet because it is seeing both the past and future at the same time. Some people revere it as a mystical Pokémon out of their belief that Xatu is in possession of the power to see into the future. In South America, it is said that its right eye sees the future and its left eye views the past.
Location
Ruins of Alph (need Surf) (past)
Evolution
Ability
Move Set
Level up (edit)
Lv
Move Name
Type
Category
Pwr.
Cldwn.
Dur.
Acc.
Effect %
Target
0
Peck
35
1.2
100%
Single
(No additional effects.)
0
Leer
-
2.4
100%
100%
Single
Lowers target's Defence by 1.
6
Night Shade
N/A
1.8
100%
Projectile
Power equals to user's effective level.
9
Teleport
-
6
Always
Self
Moves user to another spot in battlefield.
Does not work if there is only one or if user is trapped.
12
Lucky Chant
-
30
Can't Miss
100%
Around
Lowers target's critical hit ratio level by 1.
17
Miracle Eye
-
2.4
Always
Single
Clears target's Evasiveness stat.linebreakerDark-type targets can be? hit by Psychic moves permenantly.
20
Me First
-
3.6
Can't Miss
Single
User uses target's active attack with 1.5x damage boost.
User must be faster than target. (buffs/ debuffs would affect the speed)
23
Confuse Ray
-
2.4
100%
100%
Single
Confuses the target when hit.
27
Tailwind
-
30
Always
Ally
Raises allies' Speed by 2.
30
Wish
-
30
Always
Ally
Heals the ally standing on the user's spot for 50% maximum HP after 7 game ticks.
37
Psycho Shift
-
100%2
90%
Single
Transfers user's status problem to target.
42
Future Sight
100
1.2
100%
Single
Target is hit after 3 game ticks.
47
Stored Power
20
1.2
100%
Single
More buffs the user has, greater the power is. (20-860)
54
Ominous Wind
60
1.2
100%
10%
Single
May raise user's Attack, Defense, Sp. Attack, Sp. Defense, Speed by 1.
54
Power Swap
-
100%8
Always
Single
Exchange user's buffs and debuffs in Attack and Sp. Attack with target.
59
Guard Swap
-
100%
Always
Single
Exchange user's buffs and debuffs in Defense and Sp. Defense with target.
66
Psychic
90
1.2
100%
Single
May lower target's Sp. Defense.
Damage Taken
Main article: List of Pokemon Weaknesses
Ad blocker interference detected!
Wikia is a free-to-use site that makes money from advertising. We have a modified experience for viewers using ad blockers

Wikia is not accessible if you've made further modifications. Remove the custom ad blocker rule(s) and the page will load as expected.