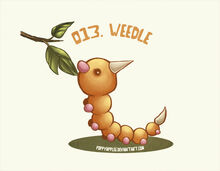 Description
Weedle is a small larva Pokémon with a beige, yellow, or rust-colored segmented body. Combined with its red, purple, or fuchsia nose and feet, Weedle's bright coloration wards off its enemies. Weedle has a conical, two-inch venomous stinger on its head and a barbed one on its tail, but its other body parts are spherical.
Location
Route 30 (Silver version)
Gift for beating Koga's Gym Challenge (with Beedrillite)
National Park (Gold version)
Evolution
Ability
Shield Dust: Blocks added effects from target's attacks.
Run Away: Prevents Pokemon from being turned around.
Move Set
Level up (edit)
Lv
Move Name
Type
Category
Pwr.
Cldwn.
Dur.
Acc.
Effect %
Target
0
Poison Sting
15
1.2
100%
30%
Single
May poison the target.
0
String Shot
-
2.4
-
95%
1
Single
Lowers target's Speed by 1.
15
Bug Bite
60
1.2
-
100%
-
Single
Consumes held berry for its effect if any.
110
Sludge Blast
150
3.6
90%
Projectile
3 projectiles released.
110
Web Blast
150
3.6
90%
Projectile
3 projectile released.
TM / HM moves (edit)
This Pokemon cannot learn any TMs.
Damage Taken
Main article: List of Pokemon Weaknesses
Ad blocker interference detected!
Wikia is a free-to-use site that makes money from advertising. We have a modified experience for viewers using ad blockers

Wikia is not accessible if you've made further modifications. Remove the custom ad blocker rule(s) and the page will load as expected.