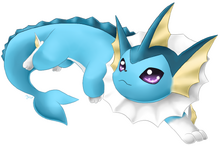 Description
Vaporeon lives close to water and prefers beautiful shores. Its long tail is ridged with a fin which is often mistaken for a mermaid's. Its cell structure is similar to water molecules. It will melt away and become invisible in water. In addition, as it uses the fins on the tip of its tail to swim, it blends with the water perfectly.
When Vaporeon's fins begin to vibrate, it is a sign that rain will come within a few hours.
Location
Evolve Eevee
Evolution
Ability
Water Absorb: Restores HP if Pokemon is hit by Water moves.
Hydration: Heals status problems under rainy weather.
Move Set
Level up (edit)
Lv
Move Name
Type
Category
Pwr.
Cldwn.
Dur.
Acc.
Effect %
Target
0
Tail Whip
-
2.4
100%
Single
0
Tackle
50
1.2
100%
Single
0
Helping Hand
-
30
Can't Miss
Ally
Raises allies' (except user) Attack and Sp. Attack by 1.
8
Sand Attack
-
2.4
100%
100%
Around
Lower target's Accuracy by 1. Disables target's ability to carry candy.
15
Water Gun
40
1.2
100%
Single
(No additional effects.)
22
Quick Attack
40
1.06
100%
Single
29
Bite
60
1.2
100%
30%
Single
May cause target flinch.
36
Aurora Beam
65
1.8
100%
10%
Beam
May lower target's Attack by 1.
43
Aqua Ring
-
60
Always
Self
Heals user of 1/16 of maximum HP.
50
Last Resort
140
1.2
100%
Single
Can be used only when user has less than 50% of max health
57
Haze
-
30
Always
All
Removes all buffs and debuffs of all pokemons in battlefield.
64
Acid Armor
-
3.6
Always
100%
Single
Raises user's Defense by 2.
71
Hydro Pump
120
1.8
80%
Beam
(No additional effects.)
78
Muddy Water
95
2.4
85%
30%
Around
May lower target's Accuracy by 1.
Damage Taken
Main article: List of Pokemon Weaknesses
Ad blocker interference detected!
Wikia is a free-to-use site that makes money from advertising. We have a modified experience for viewers using ad blockers

Wikia is not accessible if you've made further modifications. Remove the custom ad blocker rule(s) and the page will load as expected.