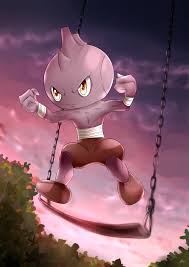 Description
Tyrogue becomes stressed out if it does not get to train every day as it is always bursting with energy. When raising this Pokémon, the TRAINER must establish and uphold various training methods. To brush up on its fighting skills, it will challenge anyone. It has a very strong competitive spirit.
Even though it is small, it can't be ignored because it will slug any handy target without warning. It is famous for its eagerness to fight and always nurses injuries from challenging larger foes.
Location
Breed
Shiny: Pokemon adoption 10 snd
Evolution
Ability
Guts: Boosts Attack if Pokemon is in status problems.
Steadfast: Raises Speed each time when Pokemon flinches.
Vital Spirit: Prevents Pokemon from sleep.
Move Set
Level up (edit)
Lv
Move Name
Type
Category
Pwr.
Cldwn.
Dur.
Acc.
Effect %
Target
0
Revenge
60*
1.8
100%
Single
Power doubles if user is damaged.
0
Rolling Kick
60
1.2
0.85
0.3
Single
May cause target flinch.
6
Focus Energy
-
6
Can't Miss
Self
Raises user's critical hit ratio level by 1.
10
Pursuit
40
1.2
100%
Single
Damage doubled on slower target
Damage Taken
Main article: List of Pokemon Weaknesses
Ad blocker interference detected!
Wikia is a free-to-use site that makes money from advertising. We have a modified experience for viewers using ad blockers

Wikia is not accessible if you've made further modifications. Remove the custom ad blocker rule(s) and the page will load as expected.