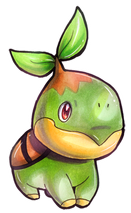 Description
Turtwig is a small, light green, quadruped Pokémon resembling a turtle or tortoise. Its eyes, feet, and lower jaw are yellow. Its body is covered by a brown shell that is composed of earth. The shell has a thick black stripe and a black rim. On a very healthy Turtwig, the shell should feel moist. A small seedling grows on a brown patch on its head. This seedling will wilt if the Pokémon becomes thirsty. As a plant-based Pokémon, Turtwig usually nourishes itself through photosynthesis. It also drinks water, which hardens its soil-based shell. Due to its status as a starter Pokémon, a wild Turtwig is hard to come by and it is generally found under the ownership of Trainers.
Location
Random chance in the every encounter in Sinnoh invasion mode.
Evolution
Ability
Overgrow: Powers up Grass-type moves under 1/3 of maximum HP.
Shell Armor: Prevents Pokemon from critical hits.
Move Set
Level up (edit)
Lv
Move Name
Type
Category
Pwr.
Cldwn.
Dur.
Acc.
Effect %
Target
1
Tackle
50
1.2
100%
Single
5
Withdraw
-
2.4
Always
Always
Single
Raises user's Defense by 1.
9
Absorb
20
1.2
100%
Single
Heals user of 1/2 damage dealt.
13
Razor Leaf
55
1.2
95%
Single
Critical hit chance * 2.
17
Curse
-
60/3.6
Always
Single
Ghost pokemons: Damages target for 1/4 of user's max HP in 8 parts throughout 8 game ticks, at a cost of 1/2 of user's max HP.
Non-Ghost pokemons: Raises user's Attack and Defense but lowers Speeed.
21
Bite
60
1.2
100%
30%
Single
May cause target flinch.
25
Mega Drain
40
1.2
100%
Single
Heals user of 1/2 damage dealt.
29
Leech Seed
N/A
1.2
90%
Single
Drains 30 physical damage from target and heal 100% of this amount.
33
Synthesis
-
60
Always
Single
Heals user of HP based on weather.
(Normal: 1/2; Sunny: 2/3; Rain/Sandstorm/Hail: 1/4)
37
Crunch
80
1.2
100%
Single
May lower target's Defense by 1.
41
Giga Drain
75
1.2
100%
Single
Heals user of 1/2 damage dealt.
45
Leaf Storm
140
1.8
90%
100%
Beam
Lower user's Sp. Attack by 2.
Damage Taken
Main article: List of Pokemon Weaknesses
Ad blocker interference detected!
Wikia is a free-to-use site that makes money from advertising. We have a modified experience for viewers using ad blockers

Wikia is not accessible if you've made further modifications. Remove the custom ad blocker rule(s) and the page will load as expected.