Description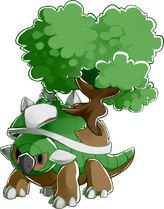 Torterra is a bulky quadruped Pokémon resembling a tortoise, with a large shell covering its back. There is a single, oak-like tree and three triangular, stony extensions resembling mountain peaks on the top of the shell. There is a patch of brown, resembling soil, next to the tree. A white rim surrounds the shell, and forms a diamond-shaped continuation on the front. Torterra's body appears sectioned, with the upper half being green and the lower half brown. Its mouth is jagged and at the end of its snout is a dark brown beak, giving it the appearance of a snapping turtle. Its lower jaw is green and there are two large spikes protruding from its cheeks. Torterra's small, red eyes are encircled by a black ring. Its legs are thick and they have four toes each, which appear as if they are actually jagged stones. There are three toes on the front and one on the heel.
Torterra's large and clean shell supports the lives of many small Pokémon, which occasionally gather and build their nests upon the shell. Some are born and spend their entire life there. Torterra migrate in search of water, creating the illusion of "moving forests". However, it is typically immobile.
Location
Evolve Grotle
Evolution
Ability
Overgrow: Powers up Grass-type moves under 1/3 of maximum HP.
Shell Armor: Prevents Pokemon from critical hits.
Move Set
Level up (edit)
Lv
Move Name
Type
Category
Pwr.
Cldwn.
Dur.
Acc.
Effect %
Target
1
Wood Hammer
120
1.2
100%
Single
Damages user by 1/3 of damage dealt.
1
Tackle
50
1.2
100%
Single
1
Withdraw
-
2.4
Always
Always
Single
Raises user's Defense by 1.
1
Absorb
20
1.2
100%
Single
Heals user of 1/2 damage dealt.
1
Razor Leaf
55
1.2
95%
Single
Critical hit chance * 2.
1
Curse
-
60/3.6
Always
Single
Ghost pokemons: Damages target for 1/4 of user's max HP in 8 parts throughout 8 game ticks, at a cost of 1/2 of user's max HP.
Non-Ghost pokemons: Raises user's Attack and Defense but lowers Speeed.
1
Bite
60
1.2
100%
30%
Single
May cause target flinch.
1
Mega Drain
40
1.2
100%
Single
Heals user of 1/2 damage dealt.
32
Earthquake
100
2.4
100%
All
Harms allies by 10% of damage.
33
Leech Seed
N/A
1.2
90%
Single
Drains 30 physical damage from target and heal 100% of this amount.
39
Synthesis
-
60
Always
Single
Heals user of HP based on weather.
(Normal: 1/2; Sunny: 2/3; Rain/Sandstorm/Hail: 1/4)
45
Crunch
80
1.2
100%
Single
May lower target's Defense by 1.
51
Giga Drain
75
1.2
100%
Single
Heals user of 1/2 damage dealt.
57
Leaf Storm
140
1.8
90%
100%
Beam
Lower user's Sp. Attack by 2.
Damage Taken
Main article: List of Pokemon Weaknesses
Ad blocker interference detected!
Wikia is a free-to-use site that makes money from advertising. We have a modified experience for viewers using ad blockers

Wikia is not accessible if you've made further modifications. Remove the custom ad blocker rule(s) and the page will load as expected.