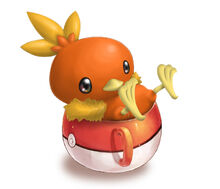 Description
Torchic is very loyal and dependent on its trainer, following behind them everywhere they go.
A Torchic dislikes darkness because it can't see its surroundings.
Torchic sticks with its TRAINER, following behind with unsteady steps. This Pokémon breathes fire of over 1,800 degrees F, including fireballs that leave the foe scorched black. If attacked, it strikes back by spitting balls of fire it forms in its stomach.
Torchic has a place inside its body where it keeps its flame. Give it a hug - it will be glowing with warmth. This Pokémon is covered all over by a fluffy coat of down.
Location
Random chance in every encounter in Hoenn Invasion
Evolution
Ability
Blaze: Powers up Fire-type moves under 1/3 of maximum HP.
Speed Boost: Raises Speed every certain rounds.
Move Set
Level up (edit)
Lv
Move Name
Type
Category
Pwr.
Cldwn.
Dur.
Acc.
Effect %
Target
0
Scratch
40
100%
Single
0
Growl
-
2.4
100%
100/15%
Around
Lower target's Attack by 1.
May turn enemy around.
7
Focus Energy
-
6
Can't Miss
Self
Raises user's critical hit ratio level by 1.
10
Ember
40
1.2
100%
10%
Single
May burn the target.
16
Peck
35
1.2
100%
Single
(No additional effects.)
19
Sand Attack
-
2.4
100%
100%
Around
Lower target's Accuracy by 1. Disables target's ability to carry candy.
25
Fire Spin
35
1.2
85%
Single
Traps target for 4-5 game ticks.
Only one trap can happen on each target.
28
Quick Attack
40
1.06
100%
Single
34
Slash
70
100%
Single
37
Mirror Move
-
3.6
Always
Single
Uses any of target's moves. (All move target is corrected to "Single")
Transform is copied from Transformed pokemons without using it.
43
Flamethrower
95
1.8
100%
10%
Beam
May burn the target.
Damage Taken
Main article: List of Pokemon Weaknesses
Ad blocker interference detected!
Wikia is a free-to-use site that makes money from advertising. We have a modified experience for viewers using ad blockers

Wikia is not accessible if you've made further modifications. Remove the custom ad blocker rule(s) and the page will load as expected.