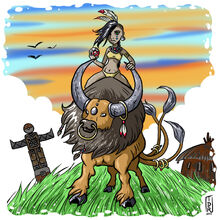 Description
A rowdy Pokémon with a lot of stamina. Once running, it won't stop until it hits something. This Pokémon is not satisfied unless it is rampaging at all times.
These violent Pokémon fight with other members of their herd in order to prove their strength. They fight each other by locking horns. The herd's protector takes pride in its battle-scarred horns. If there is no opponent for Tauros to battle, it will charge at thick trees and knock them down to calm itself. When it targets an enemy, it charges furiously while whipping its body with its long tails.
Location
Route 38
Evolution
Tauros is not evolved, and will not evolve.
Ability
Intimidate: Lowers targets' Attack stat.
Anger Point: Maximizes Attack after receiving a critical hit.
Sheer Force: Removes added effects to increase move damage.
Move Set
Level up (edit)
Lv
Move Name
Type
Category
Pwr.
Cldwn.
Dur.
Acc.
Effect %
Target
0
Tackle
50
1.2
100%
Single
3
Tail Whip
-
2.4
100%
Single
5
Rage
20
100%
Single
8
Horn Attack
65
1.2
100%
Single
(No additional effects.)
11
Scary Face
-
100%
Single
15
Pursuit
40
1.2
100%
Single
Damage doubled on slower target
19
Rest
-
100%3
%
Self
Heals user 1/10 of maximum HP every 1.2 seconds over 12 second.
24
Payback
50
1.2
100%
Single
Power doubles if user is damaged by target.
29
Work Up
-
3.6
Always
Single
Raises user's Attack and Sp. Attack by 1.
35
Zen Headbutt
80
1.2
90%
20%
Single
May cause target flinch.
41
Take Down
90
1.2
85%
25%
Single
It also damages the user a little.
48
Swagger
-
90%
Single
55
Thrash
120
100%
Single
63
Giga Impact
150
2.4
90%
Single
User suffers 33% recoil damage.
Damage Taken
Main article: List of Pokemon Weaknesses
Ad blocker interference detected!
Wikia is a free-to-use site that makes money from advertising. We have a modified experience for viewers using ad blockers

Wikia is not accessible if you've made further modifications. Remove the custom ad blocker rule(s) and the page will load as expected.