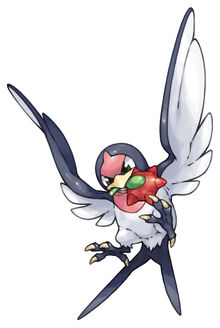 Description
Taillow is young - it has only just left its nest. As a result, it sometimes becomes lonesome and cries at night.
This Pokémon feeds on Wurmple that live in forests.
Taillow courageously stands its ground against foes, however strong they may be. This gutsy Pokémon will remain defiant even after a loss. On the other hand, it cries loudly if it becomes hungry.
It dislikes cold seasons. They migrate to other lands in search of warmth, flying over 180 miles a day.
Location
Route 31 (Hoenn Invasion)
Route 35 (Hoenn Invasion)
Evolution
Ability
Guts: Boosts Attack if Pokemon is in status problems.
Scrappy: Enables Normal and Fighting moves to hit Ghost Pokemons.
Move Set
Level up (edit)
Lv
Move Name
Type
Category
Pwr.
Cldwn.
Dur.
Acc.
Effect %
Target
0
Peck
35
1.2
100%
Single
(No additional effects.)
0
Growl
-
2.4
100%
100/15%
Around
Lower target's Attack by 1.
May turn enemy around.
4
Focus Energy
-
6
Can't Miss
Self
Raises user's critical hit ratio level by 1.
8
Quick Attack
40
1.06
100%
Single
13
Wing Attack
60
1.2
100%
Single
(No additional effects.)
19
Double Team
-
2.4
Can't Miss
100%
Self
Raises user's Agility by 1.
26
Endeavor
N/A
1.2
100%
Single
Power increases (3-300) with fewer user's remaining HP.
34
Aerial Ace
60
1.2
Always
Single
Always hit target (except protected)
43
Agility
-
3.6
Always
Self
Raises user's Agliity by 2.
53
Air Slash
75
1.2
95%
30%
Single
May cause target flinch.
Damage Taken
Main article: List of Pokemon Weaknesses
Ad blocker interference detected!
Wikia is a free-to-use site that makes money from advertising. We have a modified experience for viewers using ad blockers

Wikia is not accessible if you've made further modifications. Remove the custom ad blocker rule(s) and the page will load as expected.