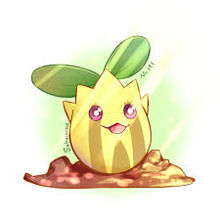 Description
Sunkern tries to move as little as it possibly can. It does so because it tries to conserve all the nutrients it has stored in its body for its evolution. It will not eat a thing, subsisting only on morning dew from under the leaves of plants.
It is very weak. Its only means of defense is to shake its leaves desperately at its attacker.
It suddenly falls out of the sky in the morning. A year after a cold summer, their population explodes.
Location
National Park
Evolution
Ability
Move Set
Level up (edit)
Lv
Move Name
Type
Category
Pwr.
Cldwn.
Dur.
Acc.
Effect %
Target
0
Absorb
20
1.2
100%
Single
Heals user of 1/2 damage dealt.
0
Growth
-
3.6
Can't Miss
100%
Self
Raises user's Attack and Sp. Attack by 1. (2 when Sunny Day is in effect)
5
Mega Drain
40
1.2
100%
Single
Heals user of 1/2 damage dealt.
9
Ingrain
-
60
Always
Self
Heals user of 16% of max HP. User cannot retreat.
13
GrassWhistle
-
2.4
55%
100%
Around
Causes target sleep when hit.
17
Leech Seed
N/A
1.2
90%
Single
Drains 30 physical damage from target and heal 100% of this amount.
21
Endeavor
N/A
1.2
100%
Single
Power increases (3-300) with fewer user's remaining HP.
25
Worry Seed
-
60
Always
Single
Changes target's ability into "Insomnia"
29
Razor Leaf
55
1.2
95%
Single
Critical hit chance * 2.
33
Synthesis
-
60
Always
Single
Heals user of HP based on weather.
(Normal: 1/2; Sunny: 2/3; Rain/Sandstorm/Hail: 1/4)
37
Sunny Day
-
60
60
Always
All
Powers up fire-type moves (x1.5), weakens water-type moves(x0.5).
Lowers accuracy of Thunder as 50%.
Lowers SolarBeam cooldown.
Changes Weather Ball to be fire-typed.
Affects Photosynthesis, Morning Sun, Moonlight recovery.
Doubles the buffs of Growth.
41
Giga Drain
75
1.2
100%
Single
Heals user of 1/2 damage dealt.
45
Seed Bomb
80
1.2
100%
Single
(No additional effects.)
Damage Taken
Main article: List of Pokemon Weaknesses
Ad blocker interference detected!
Wikia is a free-to-use site that makes money from advertising. We have a modified experience for viewers using ad blockers

Wikia is not accessible if you've made further modifications. Remove the custom ad blocker rule(s) and the page will load as expected.