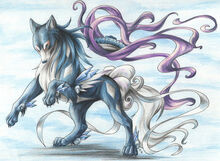 Description
Suicune is sky blue in color, with white rhombuses around the body and a white belly. Suicune has an aquamarine crest on its head which is in the shape of a hexagram. Behind its crest is a purple mane with supposedly thick, smooth fur. Two white, ribbon-like tails sprout out from Suicune's back and constantly flow forward. A shiny Suicune is light periwinkle, with a darker periwinkle crest and a cerulean colored mane.
Suicune embodies the compassion of a pure spring of water. It runs across the land with gracefulness. This Pokémon has the power to purify dirty water.
Location
Random chance in every encounter (Shadow and Shiny can appear as well)
Evolution
Suicune is not evolved, and will not evolve.
Ability
Pressure: Raises target's move cooldown.
Water Absorb: Restores HP if Pokemon is hit by Water moves.
Move Set
Level up (edit)
Lv
Move Name
Type
Category
Pwr.
Cldwn.
Dur.
Acc.
Effect %
Target
0
Bite
60
1.2
100%
30%
Single
May cause target flinch.
0
Leer
-
2.4
100%
100%
Single
Lowers target's Defence by 1.
8
Bubblebeam
65
2.4
100%
10%
Around
May lower target's Speed by 1.
15
Rain Dance
-
60
60
Always
All
Powers up water-type moves (x1.5), weakens fire-type moves(x0.5).
Raises accuracy of Thunder and Hurricane as 1.
Changes Weather Ball to be water-typed.
Lowers Photosynthesis, Morning Sun, Moonlight recovery.
22
Gust
40
1.2
100%
Single
(No additional effects.)
29
Aurora Beam
65
1.8
100%
10%
Beam
May lower target's Attack by 1.
36
Mist
-
60
5.4
Always
Ally
Protects allies from stat reductions.
43
Mirror Coat
-
60
100%
Single
Attacks target with damage 1.5x of that endured within 3.6 seconds
50
Ice Fang
65
1.2
95%
10%
Single
May freeze and/or flinch the target.
57
Tailwind
-
30
Always
Ally
Raises allies' Speed by 2.
64
Extrasensory
80
1.2
100%
Single
May cause target flinch.
71
Hydro Pump
120
1.8
80%
Beam
(No additional effects.)
78
Calm Mind
-
3.6
Always
Self
Raises user's Sp. Attack and Sp. Defense by 1.
85
Blizzard
120
1.8
70%
10%
Beam
May freeze the target.
Damage Taken
Main article: List of Pokemon Weaknesses