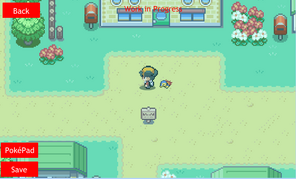 The Story Mode is a series of events that, designed by Sam, happen differently from the Pokemon franchise.
It is a the main story taking place in Johto. Unlike in PTD 1, the character can be moved around using arrow keys. There are wild pokemons and NPCs on different areas which the main character can interact. Tower Defense mode or dialogues would then follow.
In Tower Defense mode, very much like in PTD 1, pokemons can be placed on, removed from, moved among specified squares in a location. By using different moves, different objectives can be achieved. These objectives include killing incoming pokemons from getting resources at the end, or just wild encounter.
The following describes the major events that happen:
Beginning Chapter
Professor appeared in your dream and asked you about your gender, name, and the game version (Gold Version or Silver Version) you prefer.
Afterwards, three shadow starters appeared in front of you. You needed to fight them with three normal starters in your team.
Waking up from the dream, you remembered you can walk with arrow keys. Downstairs, your mum reminded you to get one starter from Professor after finishing your breakfast.
New Bark Town
One neighbour congratulated you in choosing a new starter as your pokemon. You then went to Professor's Lab. Professor greeted you inside and asked you to choose one of the starters.
When you were delighted about getting a new pokemon and releases it from PokeBall, the pokemon cries and runs away from you.
You finally found your pokemon in the passageway northwest of the town. There, you saw the three starters pokemons were confronted by shadow pokemons. You used your chosen starter pokemon to kill the shadow pokemons before they get the other two starters away.
Professor knew what happened and summoned you back to his lab after reporting to the authorities about the roaming of shadow pokemons.
A mysterious voice was heard once you stepped the lab again, which summons you to the southeast part of the town (and concerned about keeping yourself alone). There, a redheaded guy asked you to fight him. Strangely, he owns a starter which is effective against you, plus a Sentret.
After the fight, the professor summons you again to give you a newly-developed PokeBall, which allows you to catch very much weakened pokemons with infinite number of use.
You saw a guard caught the mysterious guy you have just fought. You heard his name is... Silver. Disregarding everything, you start your journey on the west.
Route 29
This route was a large area. You went deeper and you saw a girl, Zai. She asked you for your help in defending your Oran Berries for her with your pokemon. As you proceeded, your found a shadow pokemon available for you.
To the north, there was a resting point, blocked by a guard. To no avail in getting past, you continued to walk west.
Cherrygrove City
When you talked to the guard, Professor, Silver, and Zai came and all of you entered Cherrygrove City. There, you saw Gary persuading Zapdos on not attacking the wild lives.
You and Silver decided to help with your pokemons by knocking down the rattled pokemons while evading Zapdos's attack. After all this, Ash appeared and his Lugia calmed the legendary birds with telepathy. Giovanni appeared from nowhere and captured Lugia with his new invention, Mewthree.
Route 31
Walking through Route 30 and Dark Cave, you saw many new pokemons that you were interested in getting them.
At the end, you saw a guard blocking your way again. This time, a blue-headed guy claimed himself the gym leader of the city ahead. You then challenged him and you two fought in a clear area in the forest. The guys was a fanatic collector of pidgey that more and more came in as battle proceeded. The guy's pidgeotto also wings up strong gusts of wind that caused you high damage continuously.
Seeing you beating the gym leader, the guard was terrified and let you through.
Violet City
Main article: Violet City
An uneasy monk came to you and asked your help in gaining control of the Sprout Tower in the north. Once inside, you saw shadow Bellsprouts. The alpha Bellsprout in the center occasionally summons vine whip that traps your pokemon in place. Then the fellow Bellsprouts would fire razor leaves that hit your pokemons for a small damage. The monk inside the Tower thanked you for your effort and referred you to Elder Li in the city for help.
Giovanni appeared again and this time, he shadow captured all citizens with Mewthree into Shadow realm. Inside, everyone was angry. Suddenly, Lugia speaks of causing a turbo of air current to break the shadow realm. To save the rest, you had no choice but to fight against Lugia. Zai volunteered in healing your pokemon at a corner. Lugia summons whirlwinds to any one pokemons around it before winging a strong tornado that kept hitting your pokemon for damage if not removed in time.
Route 32 (North)
After succeeding, you went south and saw more guards guarding your way. You chose to go west into the ruins. But before that, the guard challenged you with his crobat.
Ruins of Alph
Main article: Ruins of Alph
You thought the Crobat was not trouble at all and decided to get back to him for more experience. In the ruins, you found the two entrances led to the same area and some uowns inside. Investigation informed you that the uowns were fighting for the fossils. Not knowing more information, you defended the fossils. You asked for Ash's help outside the ruins, he insisted that you have missed something.
Truly, the uowns became shadow uowns by shadow Entei. While defending the fossils again, you realised that the fireballs from Entei were also a trouble...
Ash and Gary came inside the ruins. Ash told you for the time being when they investigated more, you should check out more Route 32.
Route 32 (Central)
The other guard have stepped aside to let you pass. You found more pokemon you liked on the way. At the end, you saw a fisherman that have caught a large amount of different pokemons in different weeks. Each time you were asked to defend the rare candies at the right side. At first, the fisherman gave you an Old rod. When you have defended for the three types of pokemons the fisherman caught (Tentacool, Magikarp, Qwilfish), the fisherman was surprised and awarded you the Normal rod.
When you proceeded further down, you witnessed Mewthree captured the fisherman and Silver plus Zai coming to you. Your instinct summoned your pokemon to protect you from being caught.
The Past
Main article: Past World
After defeat, you could not see Mewthree but Celebi arrived at you, saying you have just brought down one clone of Mewthree. Mewthree itself was much tougher. Celebi brought you back a few minutes before Mewthree appeared to talk these words to you. Putting you as a hope to the world, Celebi requested you to get stronger to fight the Elite Four and Giovanni, just like Gold did in the past. Celebi teleported you to the past when Gold first started his journey.
Although you were reluctant, you went through the journey like you did in the present. You were surprised by the huge difference in the past. In the past, there were trainers that were eager to challenge you when you walk by them.