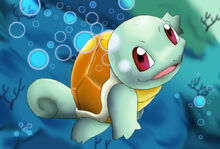 Description
Squirtle is a small Pokémon that resembles a light blue turtle. It has large brown eyes and a slightly hooked upper lip. Each of its hands and feet have three pointed digits. The end of its long tail curls inward. Its body is encased by a tough shell that forms and hardens after birth. This shell is brown on the top, pale yellow on the bottom, and has a thick white ridge between the two halves.
Location
Gift for beating Misty's Gym Challenge (with Blastoisinite)
Random chance to appear in every encounter in every invasion.
Transfer
Evolution
Ability
Torrent: Powers up Water-type moves under 1/3 of maximum HP.
Rain Dish: Heals HP under rainy weather.
Move Set
Level up (edit)
Lv
Move Name
Type
Category
Pwr.
Cldwn.
Dur.
Acc.
Effect %
Target
0
Tackle
50
1.2
100%
Single
4
Tail Whip
-
2.4
100%
Single
7
Bubble
20
1.2
100%
10%
Single
May lower target's Speed by 1.
10
Withdraw
-
2.4
Always
Always
Single
Raises user's Defense by 1.
13
Water Gun
40
1.2
100%
Single
(No additional effects.)
16
Bite
60
1.2
100%
30%
Single
May cause target flinch.
19
Rapid Spin
20
100%
Single
22
Protect
-
60
30
Can't Miss
Self
Evade all attacks for 10 times.
25
Water Pulse
60
1.2
100%
0.2
Single
May confuse the target.
28
Aqua Tail
90
1.2
90%
Single
(No additional effects.)
31
Skull Bash
100
100%
Single
34
Iron Defense
-
3.6
-
---
100%
Self
Raises user's Defense by 2.
37
Rain Dance
-
60
60
Always
All
Powers up water-type moves (x1.5), weakens fire-type moves(x0.5).
Raises accuracy of Thunder and Hurricane as 1.
Changes Weather Ball to be water-typed.
Lowers Photosynthesis, Morning Sun, Moonlight recovery.
40
Hydro Pump
120
1.8
80%
Beam
(No additional effects.)
110
Hydro Cannon
150
3.6
90%
Projectile
3 projectiles released.
Damage Taken
Main article: List of Pokemon Weaknesses
Ad blocker interference detected!
Wikia is a free-to-use site that makes money from advertising. We have a modified experience for viewers using ad blockers

Wikia is not accessible if you've made further modifications. Remove the custom ad blocker rule(s) and the page will load as expected.