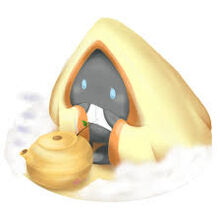 Description
Snorunt is black, with blue eyes and a big yellow hat with an orange stripe on it, to protect it against blizzards and other Pokémon. The fabric of it is widely used in the market to make coats and sold at a high price. His aesthetic is reminiscent of an Eskimo sheltered from the cold. It is very mischievous and playful, and likes to go from one side to another.
Location
Ice Path (Hoenn Invasion)
Evolution
Ability
Inner Focus: Prevents Pokemon from flinching.
Ice Body: Heals HP under hailstorm.
Moody: Raises a random stat and lowers another.
Move Set
Level up (edit)
Lv
Move Name
Type
Category
Pwr.
Cldwn.
Dur.
Acc.
Effect %
Target
1
Powder Snow
40
2.4
100%
10%
Around
May freeze the target.
1
Leer
-
2.4
100%
100%
Single
Lowers target's Defence by 1.
4
Double Team
-
2.4
Can't Miss
100%
Self
Raises user's Agility by 1.
10
Bite
60
1.2
100%
30%
Single
May cause target flinch.
13
Icy Wind
55
2.4
95%
100%
Around
Lower target's Speed by 1 when hit.
19
Headbutt
70
1.2
100%
30%
Single
May cause target flinch.
Can hit trees for wild encounters.
22
Protect
-
60
30
Can't Miss
Self
Evade all attacks for 10 times.
28
Ice Fang
65
1.2
95%
10%
Single
May freeze and/or flinch the target.
31
Crunch
80
1.2
100%
Single
May lower target's Defense by 1.
37
Ice Shard
40
100%
100%
Single
(No additional effects.)
40
Hail
-
15
5 gt
%
All
Hits non-ice pokemons for 1/16 of max HP every game tick.
Changes Weather Ball to be ice-typed.
Affects Photosynthesis, Morning Sun, Moonlight recovery.
46
Blizzard
120
1.8
70%
10%
Beam
May freeze the target.
Damage Taken
Main article: List of Pokemon Weaknesses
Ad blocker interference detected!
Wikia is a free-to-use site that makes money from advertising. We have a modified experience for viewers using ad blockers

Wikia is not accessible if you've made further modifications. Remove the custom ad blocker rule(s) and the page will load as expected.