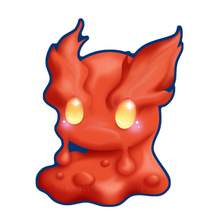 Description
These group together in areas that are hotter than normal, commonly volcanic sites. Slugma does not have any blood in its body. Instead, intensely hot magma circulates throughout this Pokémon's body, carrying essential nutrients and oxygen to its organs. It never sleeps. It has to keep moving because if it stopped, its magma body would cool and harden.
Location
Obtainable from game corner in goldenrod city(10,000)
Trade
Evolution
Ability
Magma Armor: Prevents Pokemon from getting frozen.
Flame Body: Burns target using physical moves.
Weak Armor: Lowers Defense but raise Speed if Pokemon is hit by physical moves.
Move Set
Level up (edit)
Lv
Move Name
Type
Category
Pwr.
Cldwn.
Dur.
Acc.
Effect %
Target
0
Yawn
-
1.8
%
Single
Causes target sleep when hit.
0
Smog
20
1.2
70%
40%
Single
May poison the target.
5
Ember
40
1.2
100%
10%
Single
May burn the target.
10
Rock Throw
50
1.2
90%
Single
(No additional effects.)
14
Harden
-
2.4
Can't Miss
Self
Raises user's Defence by 1.
19
Recover
-
60
Can't Miss
Self
Heals user of 1/2 of maximum HP.
23
Flame Burst
70
2.4
100%
Around
(No additional effects.)
28
AncientPower
60
1.2
100%
10%
Single
May raise user's Attack, Defense, Sp. Attack, Sp. Defense, Speed by 1.
32
Amnesia
-
3.6
Always
Self
Raises user's Sp. Defense by 2.
37
Lava Plume
80
2.4
100%
30%
Around
May burn the target.
41
Rock Slide
75
2.4
90%
30%
Around
May cause target flinch.
46
Body Slam
85
1.2
-
100%
30%
Single
May cause target paralysis.
50
Flamethrower
95
1.8
100%
10%
Beam
May burn the target.
55
Earth Power
90
1.2
100%
10%
Single
May lower target's Sp. Defense by 1.
Damage Taken
Main article: List of Pokemon Weaknesses
Ad blocker interference detected!
Wikia is a free-to-use site that makes money from advertising. We have a modified experience for viewers using ad blockers

Wikia is not accessible if you've made further modifications. Remove the custom ad blocker rule(s) and the page will load as expected.