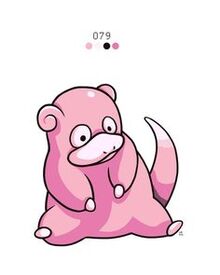 Description
Slowpoke uses its tail to catch prey by dipping it in water at the side of a river. However, this Pokémon often forgets what it's doing and often spends entire days just loafing at water's edge.
A sweet sap leaks from its tail's tip. Although not nutritious, the tail is pleasant to chew on. Although slow, it is skilled at fishing with its tail. It does not feel pain if its tail is bitten.
Location
Slowpoke well
Evolution
Ability
Oblivious: Prevents Pokemon from infatuation.
Own Tempo: Prevents Pokemon from confusion.
Regenerator: Restores HP if Pokemon is withdrawn from and then returned to battlefield.
Move Set
Level up (edit)
Lv
Move Name
Type
Category
Pwr.
Cldwn.
Dur.
Acc.
Effect %
Target
0
Curse
-
60/3.6
Always
Single
Ghost pokemons: Damages target for 1/4 of user's max HP in 8 parts throughout 8 game ticks, at a cost of 1/2 of user's max HP.
Non-Ghost pokemons: Raises user's Attack and Defense but lowers Speeed.
0
Yawn
-
1.8
%
Single
Causes target sleep when hit.
0
Tackle
50
1.2
100%
Single
5
Growl
-
2.4
100%
100/15%
Around
Lower target's Attack by 1.
May turn enemy around.
9
Water Gun
40
1.2
100%
Single
(No additional effects.)
14
Confusion
50
1.2
100%
Single
May confuse target.
19
Disable
-
48
100%
Single
Bans target's active move for 12 seconds.
23
Headbutt
70
1.2
100%
30%
Single
May cause target flinch.
Can hit trees for wild encounters.
28
Water Pulse
60
1.2
100%
0.2
Single
May confuse the target.
32
Zen Headbutt
80
1.2
90%
20%
Single
May cause target flinch.
36
Slack Off
-
%
Self
41
Amnesia
-
3.6
Always
Self
Raises user's Sp. Defense by 2.
45
Psychic
90
1.2
100%
Single
May lower target's Sp. Defense.
49
Rain Dance
-
60
60
Always
All
Powers up water-type moves (x1.5), weakens fire-type moves(x0.5).
Raises accuracy of Thunder and Hurricane as 1.
Changes Weather Ball to be water-typed.
Lowers Photosynthesis, Morning Sun, Moonlight recovery.
54
Psych Up
-
60
Always
Self
Copies target's buffs and debuffs.
58
Heal Pulse
-
100%2
Always
All
Heals target and ally for 1/4 of maximum HP.linebreakerDoes not heal the user.
Damage Taken
Main article: List of Pokemon Weaknesses
Ad blocker interference detected!
Wikia is a free-to-use site that makes money from advertising. We have a modified experience for viewers using ad blockers

Wikia is not accessible if you've made further modifications. Remove the custom ad blocker rule(s) and the page will load as expected.