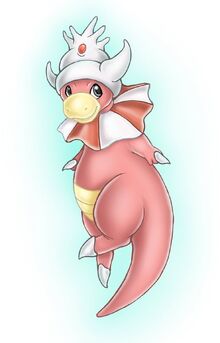 Description
When its head was bitten, toxins entered SLOWPOKE's head and unlocked an extraordinary power and intelligence comparable to that of award-winning scientists. Every time it yawns, Shellder injects more poison into it. Slowking undertakes research every day in an effort to solve the mysteries of the world. However, this Pokémon apparently forgets everything it has learned if the Slowking on its head comes off. It has incredible intellect and intuition. Whatever the situation, it remains calm and collected.
Location
Evolve Slowpoke
Evolution
Ability
Oblivious: Prevents Pokemon from infatuation.
Own Tempo: Prevents Pokemon from confusion.
Regenerator: Restores HP if Pokemon is withdrawn from and then returned to battlefield.
Move Set
Level up (edit)
Lv
Move Name
Type
Category
Pwr.
Cldwn.
Dur.
Acc.
Effect %
Target
0
Power Gem
70
1.2
100%
Single
(No additional effects.)
0
Hidden Power
N/A
1.2
100%
Single
Changes attack type (except Shadow and Fairy) and power (30-70) every time entering battlefield
0
Curse
-
60/3.6
Always
Single
Ghost pokemons: Damages target for 1/4 of user's max HP in 8 parts throughout 8 game ticks, at a cost of 1/2 of user's max HP.
Non-Ghost pokemons: Raises user's Attack and Defense but lowers Speeed.
0
Yawn
-
1.8
%
Single
Causes target sleep when hit.
0
Tackle
50
1.2
100%
Single
5
Growl
-
2.4
100%
100/15%
Around
Lower target's Attack by 1.
May turn enemy around.
9
Water Gun
40
1.2
100%
Single
(No additional effects.)
14
Confusion
50
1.2
100%
Single
May confuse target.
19
Disable
-
48
100%
Single
Bans target's active move for 12 seconds.
23
Headbutt
70
1.2
100%
30%
Single
May cause target flinch.
Can hit trees for wild encounters.
28
Water Pulse
60
1.2
100%
0.2
Single
May confuse the target.
32
Zen Headbutt
80
1.2
90%
20%
Single
May cause target flinch.
36
Nasty Plot
-
3.6
Always
Self
Raises target's Attack and Sp. Attack by 2.
41
Swagger
-
90%
Single
45
Psychic
90
1.2
100%
Single
May lower target's Sp. Defense.
49
Trump Card
40
1.2
Always
Single
Power increases by 40 with each attack and reset after 5 hits.
54
Psych Up
-
60
Always
Self
Copies target's buffs and debuffs.
58
Heal Pulse
-
100%2
Always
All
Heals target and ally for 1/4 of maximum HP.linebreakerDoes not heal the user.
Damage Taken
Main article: List of Pokemon Weaknesses
Ad blocker interference detected!
Wikia is a free-to-use site that makes money from advertising. We have a modified experience for viewers using ad blockers

Wikia is not accessible if you've made further modifications. Remove the custom ad blocker rule(s) and the page will load as expected.