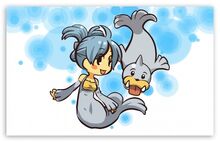 Description
Pokémon with a thick hide covered in bluish white fur. It has a pale tan maw with a large red tongue and a pair of tusks on its lower jaw. It has circular eyes and a black nose that is capable of closing while Seel swims. There is a small horn on its forehead, which it uses in combination with its tusks to bore through ice floes. It has two flippers on its chest, and two more on the end of its tail. When the tail is raised, it resembles a waterspout.
Location
Transfer
Trade
Evolution
Ability
Thick Fat: Reduces damage of target's Fire and Ice moves.
Hydration: Heals status problems under rainy weather.
Ice Body: Heals HP under hailstorm.
Move Set
Level up (edit)
Lv
Move Name
Type
Category
Pwr.
Cldwn.
Dur.
Acc.
Effect %
Target
0
Headbutt
70
1.2
100%
30%
Single
May cause target flinch.
Can hit trees for wild encounters.
3
Growl
-
2.4
100%
100/15%
Around
Lower target's Attack by 1.
May turn enemy around.
7
Water Sport
-
6
Always
Ally
Weakens inflicted fire-type damage by 67%.
11
Icy Wind
55
2.4
95%
100%
Around
Lower target's Speed by 1 when hit.
13
Encore
-
60
30
100%
Single
Target cannot switch moves.
17
Ice Shard
40
100%
100%
Single
(No additional effects.)
21
Rest
-
100%3
%
Self
Heals user 1/10 of maximum HP every 1.2 seconds over 12 second.
23
Aqua Ring
-
60
Always
Self
Heals user of 1/16 of maximum HP.
27
Aurora Beam
65
1.8
100%
10%
Beam
May lower target's Attack by 1.
31
Aqua Jet
40
1.06
100%
Single
(No additional effects.)
33
Brine
65
1.2
100%
Single
Power doubled when user has less than half HP.
37
Take Down
90
1.2
85%
25%
Single
It also damages the user a little.
41
Dive
80
1.2
100%
Single
(No additional effects.)
43
Aqua Tail
90
1.2
90%
Single
(No additional effects.)
47
Ice Beam
95
1.8
100%
10%
Beam
May freeze the target.
51
Safeguard
-
60
Always
Ally
Cures status problems and prevents any for 5.4 seconds.
53
Hail
-
15
5 gt
%
All
Hits non-ice pokemons for 1/16 of max HP every game tick.
Changes Weather Ball to be ice-typed.
Affects Photosynthesis, Morning Sun, Moonlight recovery.
Damage Taken
Main article: List of Pokemon Weaknesses
Ad blocker interference detected!
Wikia is a free-to-use site that makes money from advertising. We have a modified experience for viewers using ad blockers

Wikia is not accessible if you've made further modifications. Remove the custom ad blocker rule(s) and the page will load as expected.