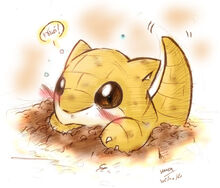 Description
Sandshrew is a bipedal mammalian Pokémon, but runs on all fours in the anime. Its yellow hide is dry, tough, blends in with desert sand, and has a brick pattern, but its underbelly and muzzle are white. Sandshrew has blue, almond-shaped eyes, a pointed snout, and triangular ears with white insides. Its tail is thick and conical. It has two long claws on each foot and three sharp claws on its forepaws, which are used to burrow.
Location
Union Cave
Evolution
Ability
Sand Veil: Raises Pokemon's Evasion under sandstorm.
Sand Rush: Raises Pokemon's Speed under sandstorm.
Move Set
Level up (edit)
Lv
Move Name
Type
Category
Pwr.
Cldwn.
Dur.
Acc.
Effect %
Target
0
Scratch
40
100%
Single
3
Defense Curl
-
2.4
-
Can't Miss
-
Self
Raises user's Defense by 1.
Doubles power of Rollout and Ice Ball.
7
Sand Attack
-
2.4
100%
100%
Around
Lower target's Accuracy by 1. Disables target's ability to carry candy.
9
Poison Sting
15
1.2
100%
30%
Single
May poison the target.
13
Rapid Spin
20
100%
Single
15
Swift
60
1.2
Always
Single
4 attacks in a row.
19
Fury Swipes
18
1.2
80%
Single
2-5 attacks in a row.
21
Rollout
30
1.2
90%
Single
Power increases by 30 for every consecutive successful hit (up to 180), or else power resets.
Defense Curl doubles the Power.
25
Fury Cutter
20
1.2
-
95%
-
Single
Power increases by 20 for every 4 consecutive successful hits (up to 160), or else power resets.
27
Sand Tomb
35
1.2
85%
Single
Traps target for 4-5 game ticks.
Only one trap can happen on each target.
31
Slash
70
100%
Single
33
Gyro Ball
N/A
1.2
-
100%
-
Single
Slower the user is, higher the power is. (=25*T/U, max. 150)
(buffs/ debuffs would affect the speed)
37
Sandstorm
-
15
6
Always
All
Hits non-rock/ground/steel pokemons for 1/16 of max HP every game tick.
Changes Weather Ball to be rock-typed.
Affects Photosynthesis, Morning Sun, Moonlight recovery.

Damage Taken
Main article: List of Pokemon Weaknesses
Ad blocker interference detected!
Wikia is a free-to-use site that makes money from advertising. We have a modified experience for viewers using ad blockers

Wikia is not accessible if you've made further modifications. Remove the custom ad blocker rule(s) and the page will load as expected.