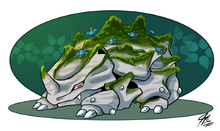 Description
Rhyhorn's brain is very small. It is so dense, while on a run it forgets why it started running in the first place. It apparently remembers sometimes if it demolishes something.
Its body is clad in a thick hide, and its tackles topple buildings. Its massive bones are 1000 times harder than human bones. It is inept at turning because of its four short legs. It can only charge and run in one direction. It doesn't care if there is anything in its way. It just charges and destroys all obstacles. This Pokémon can shatter even a skyscraper with its charging Tackles.
Location
Transfer
Route 45 (Sinnoh Invasion)
Evolution
Ability
Lightningrod: Disables targets' Electric-type moves and raises Sp. Attack.
Rock Head: Protects Pokemon from recoil damage.
Reckless: Powers up moves that have recoil damage.
Move Set
Level up (edit)
Lv
Move Name
Type
Category
Pwr.
Cldwn.
Dur.
Acc.
Effect %
Target
0
Horn Attack
65
1.2
100%
Single
(No additional effects.)
0
Tail Whip
-
2.4
100%
Single
8
Stomp
65
100%
Single
12
Fury Attack
15
1.2
85%
Single
2-5 attacks in a row
19
Scary Face
-
100%
Single
23
Rock Blast
25
1.2
90%
Single
2-5 attacks in a row.
30
Bulldoze
60
2.4
100%
100%
Around
Lowers target's Speed by 1 when hit.
34
Chip Away
70
1.2
-
100%
-
Single
Damage does not depend on Defense/ Sp. Defense stat and buffs.
41
Take Down
90
1.2
85%
25%
Single
It also damages the user a little.
45
Drill Run
80
1.2
95%
Single
Critical hit chance * 2.
52
Stone Edge
100
1.2
80%
Single
Critical hit chance * 2.
56
Earthquake
100
2.4
100%
All
Harms allies by 10% of damage.
63
Horn Drill
N/A
1.6
30%
Single
Target faints when hit. Cannot hit target of higher level.
67
Megahorn
120
1.2
-
85%
-
Single
(No additional effects.)
Damage Taken
Main article: List of Pokemon Weaknesses