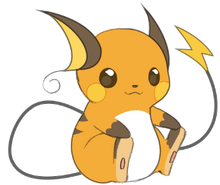 Description
Raichu is a bipedal, rodent-like Pokémon. Raichu is covered in dark orange fur with a cream belly. Its arms and feet have patches of brown fur at the end, and the soles of its big feet are tan with a circular orange pad. Its bifurcated ears are brown on the outside and yellow on the insides and ends in a distinctive curl. The electric sacs on its cheeks are yellow. It has two horizontal brown stripes on its back. Its long, thin tail has a lightning bolt-shaped end. This lightning bolt is smaller on females. Its tail is used to gather electricity from the atmosphere, or it can be planted in the ground to search for electricity. Its tail also serves to protect itself from its own power.
Location
Evolve Pikachu
Evolution
Ability
Static: May cause paralysis if target uses physical moves.
Lightningrod: Disables targets' Electric-type moves and raises Sp. Attack.
Move Set
Level up (edit)
Lv
Move Name
Type
Category
Pwr.
Cldwn.
Dur.
Acc.
Effect %
Target
0
Thundershock
40
1.2
-
100%
10%
Single
May paralyze target.
0
Tail Whip
-
2.4
100%
Single
0
Quick Attack
40
1.06
100%
Single
11
Thunder Wave
-
2.4
-
100%
100%
Single
Paralyzes target when hit.
21
Electro Ball
N/A
1.2
-
100%
Single
Slower the target is, higher the power is. (40-150)
24
Double Team
-
2.4
Can't Miss
100%
Self
Raises user's Agility by 1.
29
Slam
80
75%
Single
37
Feint
30
0.9
100%
Single
Could hit targets under Protect and Detect and cancel their effect.
39
Agility
-
3.6
Always
Self
Raises user's Agliity by 2.
44
Discharge
80
2.4
-
100%
30%
Around
May paralyze target.
48
Light Screen
-
60
5.4
%
Ally
Reduces Special Attack damages by half.
53
Thunder
120
1.2
-
70%
30%
Single
100% Accuracy under rain. May paralyze target.
Damage Taken
Main article: List of Pokemon Weaknesses
Ad blocker interference detected!
Wikia is a free-to-use site that makes money from advertising. We have a modified experience for viewers using ad blockers

Wikia is not accessible if you've made further modifications. Remove the custom ad blocker rule(s) and the page will load as expected.