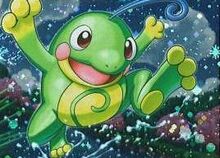 Description
The curled hair on Politoed's head is proof of its status as a king. It is said that the longer and more curled the hair, the more respect this Pokémon earns from its peers. Whenever three or more of these get together, they sing in a loud voice that sounds like bellowing.
If Poliwag and Poliwhirl hear its echoing cry, they respond by gathering from far and wide.
Location
Evolve Poliwhirl
Evolution
Ability
Water Absorb: Restores HP if Pokemon is hit by Water moves.
Damp: Disables any self-destructing moves.
Drizzle: Turns weather into rainy in battle.
Move Set
Level up (edit)
Lv
Move Name
Type
Category
Pwr.
Cldwn.
Dur.
Acc.
Effect %
Target
Damage Taken
Main article: List of Pokemon Weaknesses
Ad blocker interference detected!
Wikia is a free-to-use site that makes money from advertising. We have a modified experience for viewers using ad blockers

Wikia is not accessible if you've made further modifications. Remove the custom ad blocker rule(s) and the page will load as expected.