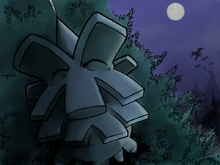 Description
Pineco hangs from a tree branch and patiently waits for prey to come along. If the Pokémon is disturbed while eating by someone shaking its tree, it drops down to the ground and explodes with no warning.
It looks just like a pine cone. Its shell protects it from bird Pokémon that peck it by mistake. It likes to make its shell thicker by adding layers of tree bark. The additional weight doesn't bother it. It spits out a fluid that it uses to glue the tree bark to its body. The fluid hardens when it touches air.
Location
Use Headbutt on trees (Random chance)
Evolution
Ability
Sturdy: Pokemon cannot be knocked out with one hit.
Move Set
Level up (edit)
Lv
Move Name
Type
Category
Pwr.
Cldwn.
Dur.
Acc.
Effect %
Target
0
Tackle
50
1.2
100%
Single
0
Protect
-
60
30
Can't Miss
Self
Evade all attacks for 10 times.
6
Selfdestruct
400
6
100%
All
User faints after attack.
9
Bug Bite
60
1.2
-
100%
-
Single
Consumes held berry for its effect if any.
12
Take Down
90
1.2
85%
25%
Single
It also damages the user a little.
17
Rapid Spin
20
100%
Single
20
Bide
N/A
2.4
Can't Miss
Single
Withstand any damages during cooldown, after which strikes back with double damage.
23
Natural Gift
N/A
1.2
100%
Single
Power and Type depends on the type of held Berry.
Does not consume the berry.
28
Spikes
N/A
60
60
Always
Trap
Damages targets walking pass (except Flying-type, Levitate, Magnet Risen pokemons).
31
Payback
50
1.2
100%
Single
Power doubles if user is damaged by target.
34
Explosion
600
6
100%
All
User faints after attack. Does not damage allies.
39
Iron Defense
-
3.6
-
---
100%
Self
Raises user's Defense by 2.
42
Gyro Ball
N/A
1.2
-
100%
-
Single
Slower the user is, higher the power is. (=25*T/U, max. 150)
(buffs/ debuffs would affect the speed)
45
Double-Edge
120
100%
Single
Damages user by 1/3 of damage dealt.
Damage Taken
Main article: List of Pokemon Weaknesses
Ad blocker interference detected!
Wikia is a free-to-use site that makes money from advertising. We have a modified experience for viewers using ad blockers

Wikia is not accessible if you've made further modifications. Remove the custom ad blocker rule(s) and the page will load as expected.