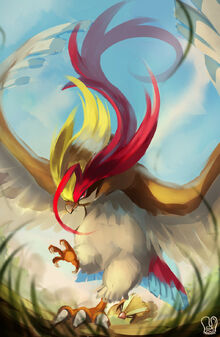 Description
Pidgeot is a large, avian Pokémon. Its glossy plumage is brown with a cream underbelly. On its head, there is a red and yellow crest that is nearly as long as its body. Its fan-like tail feathers are red. Its beak and legs are pink, and it has black markings around its eyes.
Location
Evolve Pidgeotto
Evolution
Ability
Keen Eye: Prevents other Pokemon from lowering accuracy.
Tangled Feet: Raises Evasion if Pokemon is confused.
Big Pecks: Prevents Pokemon from lowering Defense.
Move Set
Level up (edit)
Lv
Move Name
Type
Category
Pwr.
Cldwn.
Dur.
Acc.
Effect %
Target
0
Tackle
50
1.2
100%
Single
5
Sand Attack
-
2.4
100%
100%
Around
Lower target's Accuracy by 1. Disables target's ability to carry candy.
9
Gust
40
1.2
100%
Single
(No additional effects.)
13
Quick Attack
40
1.06
100%
Single
17
Whirlwind
-
3.6
100%
100%
Single
Turns target around.
Each pokemon is turned once only, regardless of move and user.
22
Twister
40
2.4
-
100%
20%
Around
May cause target flinch.
27
FeatherDance
-
3.6
100%
100%
Single
Lower target's Attack by 2.
32
Agility
-
3.6
Always
Self
Raises user's Agliity by 2.
38
Wing Attack
60
1.2
100%
Single
(No additional effects.)
44
Roost
-
100%3
Always
Self
Heals user 50% of max HP in 5 parts within 5 game ticks.
50
Tailwind
-
30
Always
Ally
Raises allies' Speed by 2.
56
Mirror Move
-
3.6
Always
Single
Uses any of target's moves. (All move target is corrected to "Single")
Transform is copied from Transformed pokemons without using it.
62
Air Slash
75
1.2
95%
30%
Single
May cause target flinch.
68
Hurricane
120
1.2
70%
30%
Around
May confuse the target.
100% Accuracy after Rain Dance.
Damage Taken
Main article: List of Pokemon Weaknesses
Ad blocker interference detected!
Wikia is a free-to-use site that makes money from advertising. We have a modified experience for viewers using ad blockers

Wikia is not accessible if you've made further modifications. Remove the custom ad blocker rule(s) and the page will load as expected.