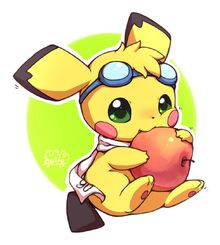 Description
Pichu charges itself with electricity more easily on days with thunderclouds or when the air is very dry. You can hear the crackling of static electricity coming off this Pokémon.
Despite its small size, it can zap even adult humans. However, if it does so, it also surprises itself. It is still inept at retaining electricity. When it is startled or amused, it discharges power accidentally. It gets better at holding power as it grows older.
It plays with others by touching tails and setting off sparks. This appears to be a test of courage.
Location
Evolution
Ability
Static: May cause paralysis if target uses physical moves.
Lightningrod: Disables targets' Electric-type moves and raises Sp. Attack.
Move Set
Level up (edit)
Lv
Move Name
Type
Category
Pwr.
Cldwn.
Dur.
Acc.
Effect %
Target
0
Thundershock
40
1.2
-
100%
10%
Single
May paralyze target.
0
Charm
-
3.6
-
100%
100%
Single
Lowers target's Attack by 2.
5
Tail Whip
-
2.4
100%
Single
10
Thunder Wave
-
2.4
-
100%
100%
Single
Paralyzes target when hit.
13
Sweet Kiss
-
75%
Single
18
Nasty Plot
-
3.6
Always
Self
Raises target's Attack and Sp. Attack by 2.
110
Zap Blast
150
3.6
90%
Projectile
3 projectiles released.
Damage Taken
Main article: List of Pokemon Weaknesses
Ad blocker interference detected!
Wikia is a free-to-use site that makes money from advertising. We have a modified experience for viewers using ad blockers

Wikia is not accessible if you've made further modifications. Remove the custom ad blocker rule(s) and the page will load as expected.