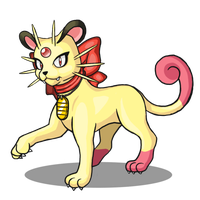 Description
A very haughty Pokémon. Among fans, the size of the jewel in its forehead is a topic of much talk. Behind its lithe, elegant appearance lies a barbaric side. It will tear apart its prey on a mere whim. Many adore it for its sophisticated air, however, it will lash out and scratch for little reason.
Persian has six bold whiskers that give it a look of toughness. The whiskers sense air movements to determine what is in the Pokémon's surrounding vicinity. It becomes docile if grabbed by the whiskers. Its lithe muscles allow it to walk without making a sound. It attacks in an instant.
Location
Evolve Meowth
Evolution
Ability
Limber: Prevents from getting paralysis.
Technician: Powers up the Pokemon's weaker moves.
Unnerve: Disables any held Berries.
Move Set
Level up (edit)
Lv
Move Name
Type
Category
Pwr.
Cldwn.
Dur.
Acc.
Effect %
Target
0
Switcheroo
-
60
100%
Single
Exchanges the held items between user and target. Not usable if either side does not have items.
0
Scratch
40
100%
Single
0
Growl
-
2.4
100%
100/15%
Around
Lower target's Attack by 1.
May turn enemy around.
6
Bite
60
1.2
100%
30%
Single
May cause target flinch.
9
Fake Out
40
1.2
100%
100%
Single
Causes target flinch.
Only works once per enemy.
14
Fury Swipes
18
1.2
80%
Single
2-5 attacks in a row.
17
Screech
-
85%
Single
22
Faint Attack
60
1.2
Always
Single
Always hit target (except protected)
25
Taunt
-
1.2
100%
Around
Causes targets to aim at user.
32
Power Gem
70
1.2
100%
Single
(No additional effects.)
37
Slash
70
100%
Single
44
Nasty Plot
-
3.6
Always
Self
Raises target's Attack and Sp. Attack by 2.
49
Assurance
50
1.2
100%
Single
Power doubled when user has less than half HP.
56
Captivate
-
3.6
-
100%
100%
Single
Lowers target's Sp. Attack by 2.
Does not work on same gender, genderless, or Oblivious pokemons.
61
Night Slash
70
1.2
100%
Single
Critical hit chance * 2.
68
Feint
30
0.9
100%
Single
Could hit targets under Protect and Detect and cancel their effect.
Damage Taken
Main article: List of Pokemon Weaknesses
Ad blocker interference detected!
Wikia is a free-to-use site that makes money from advertising. We have a modified experience for viewers using ad blockers

Wikia is not accessible if you've made further modifications. Remove the custom ad blocker rule(s) and the page will load as expected.