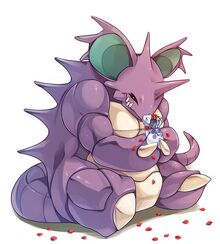 Description
Its steel-like hide adds to its powerful tackle. Its horns are so hard, they can pierce a diamond. It is recognized by its rock-hard hide and its extended horn. Be careful with the horn, as it contains venom. It uses its thick arms, legs and tail to attack forcefully. Melee combat is its specialty.
Nidoking's thick tail packs enormously destructive power. With one swing, it can topple a metal transmission tower. and snap a telephone pole as if it were a matchstick. Once this Pokémon goes on a rampage, there is no stopping it.
Location
Evolve Nidorino
Chance to appear when in a wave of Nidorino or Nidorina
Evolution
Ability
Poison Point: Poisons target if target uses physical moves.
Rivalry: Deals more damage to same gender targets.
Sheer Force: Removes added effects to increase move damage.
Move Set
Level up (edit)
Lv
Move Name
Type
Category
Pwr.
Cldwn.
Dur.
Acc.
Effect %
Target
0
Peck
35
1.2
100%
Single
(No additional effects.)
0
Focus Energy
-
6
Can't Miss
Self
Raises user's critical hit ratio level by 1.
0
Double Kick
30
1.2
100%
Single
2 attacks in a row.
0
Poison Sting
15
1.2
100%
30%
Single
May poison the target.
23
Chip Away
70
1.2
-
100%
-
Single
Damage does not depend on Defense/ Sp. Defense stat and buffs.
35
Thrash
120
100%
Single
43
Earth Power
90
1.2
100%
10%
Single
May lower target's Sp. Defense by 1.
58
Megahorn
120
1.2
-
85%
-
Single
(No additional effects.)
Damage Taken
Main article: List of Pokemon Weaknesses