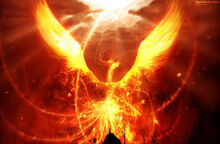 Description
Moltres is a legendary bird Pokémon that can control fire. Every flap of its wings creates a dazzling flash of flame, and as it flaps its flaming wings, even the night sky will turn red. Those seeing it are overwhelmed by its orange wings that seem to be on fire. This legendary bird Pokémon is said to bring early spring to the wintry lands it visits.
If injured, it is said to dip its body in the molten magma of a volcano to burn and heal itself.
Location
Transfer
Evolution
Moltres is not evolved, and will not evolve.
Ability
Move Set
Level up (edit)
Lv
Move Name
Type
Category
Pwr.
Cldwn.
Dur.
Acc.
Effect %
Target
0
Wing Attack
60
1.2
100%
Single
(No additional effects.)
0
Ember
40
1.2
100%
10%
Single
May burn the target.
8
Fire Spin
35
1.2
85%
Single
Traps target for 4-5 game ticks.
Only one trap can happen on each target.
15
Agility
-
3.6
Always
Self
Raises user's Agliity by 2.
22
Endure
-
60
Can't Miss
Self
Endures all attack with at least 1 HP.
Works for 3 attacks.
Cannot use if user has 1 HP already.
29
AncientPower
60
1.2
100%
10%
Single
May raise user's Attack, Defense, Sp. Attack, Sp. Defense, Speed by 1.
36
Flamethrower
95
1.8
100%
10%
Beam
May burn the target.
43
Safeguard
-
60
Always
Ally
Cures status problems and prevents any for 5.4 seconds.
50
Air Slash
75
1.2
95%
30%
Single
May cause target flinch.
57
Roost
-
100%3
Always
Self
Heals user 50% of max HP in 5 parts within 5 game ticks.
64
Heat Wave
100
2.4
90%
10%
Around
May burn the target.
71
SolarBeam
120
2.4
100%
Beam
Shorter move cooldown during Sunny Day.
78
Sky Attack
140
1.6
90%
30%
Single
May cause target flinch.
85
Sunny Day
-
60
60
Always
All
Powers up fire-type moves (x1.5), weakens water-type moves(x0.5).
Lowers accuracy of Thunder as 50%.
Lowers SolarBeam cooldown.
Changes Weather Ball to be fire-typed.
Affects Photosynthesis, Morning Sun, Moonlight recovery.
Doubles the buffs of Growth.
Damage Taken
Main article: List of Pokemon Weaknesses
Ad blocker interference detected!
Wikia is a free-to-use site that makes money from advertising. We have a modified experience for viewers using ad blockers

Wikia is not accessible if you've made further modifications. Remove the custom ad blocker rule(s) and the page will load as expected.