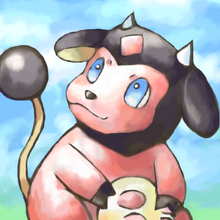 Description
Miltank gives over five gallons of milk on a daily basis. Its sweet milk is enjoyed by children and grown-ups alike. People who can't drink milk turn it into yogurt and eat it instead. Its milk is pack with nutrition, making it the ultimate beverage for the sick or weary. If it has just had a baby, the milk it produces contains much more nutrition than usual. It is said that kids who drink Miltank's milk grow up to become hearty, healthy adults.
Location
Route 38
Evolution
Miltank is not evolved, and will not evolve. 
Ability
Thick Fat: Reduces damage of target's Fire and Ice moves.
Scrappy: Enables Normal and Fighting moves to hit Ghost Pokemons.
Sap Sipper: Absorbs Grass moves, raising Attack one stage.
Move Set
Level up (edit)
Lv
Move Name
Type
Category
Pwr.
Cldwn.
Dur.
Acc.
Effect %
Target
0
Tackle
50
1.2
100%
Single
3
Growl
-
2.4
100%
100/15%
Around
Lower target's Attack by 1.
May turn enemy around.
5
Defense Curl
-
2.4
-
Can't Miss
-
Self
Raises user's Defense by 1.
Doubles power of Rollout and Ice Ball.
8
Stomp
65
100%
Single
11
Milk Drink
-
60
Can't Miss
Self
Heals user of 1/2 of maximum HP.
15
Bide
N/A
2.4
Can't Miss
Single
Withstand any damages during cooldown, after which strikes back with double damage.
19
Rollout
30
1.2
90%
Single
Power increases by 30 for every consecutive successful hit (up to 180), or else power resets.
Defense Curl doubles the Power.
24
Body Slam
85
1.2
-
100%
30%
Single
May cause target paralysis.
29
Zen Headbutt
80
1.2
90%
20%
Single
May cause target flinch.
35
Captivate
-
3.6
-
100%
100%
Single
Lowers target's Sp. Attack by 2.
Does not work on same gender, genderless, or Oblivious pokemons.
41
Gyro Ball
N/A
1.2
-
100%
-
Single
Slower the user is, higher the power is. (=25*T/U, max. 150)
(buffs/ debuffs would affect the speed)
48
Heal Bell
-
60
Can't Miss
Ally
Heals status problems (except confusion, infatuation) of user and allies.
55
Wake-Up Slap
60
1.2
100%
Single
Power doubles if target is slept, then the target wakes.
Damage Taken
Main article: List of Pokemon Weaknesses
Ad blocker interference detected!
Wikia is a free-to-use site that makes money from advertising. We have a modified experience for viewers using ad blockers

Wikia is not accessible if you've made further modifications. Remove the custom ad blocker rule(s) and the page will load as expected.