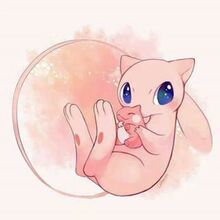 Description
Mew is a pink, bipedal Pokémon with mammalian features. Its snout is short and wide, and it has triangular ears and large, blue eyes. It has short arms with three-fingered paws, large hind legs and feet with oval markings on the soles, and a long, thin tail ending in an ovoid tip. Its fur is so fine and thin, it can only be seen under a microscope.
Mew is said to have the DNA of every single Pokémon contained within its body, and as such is able to learn any attack.
Location
Transfer
Trade from PokeCenter
Evolution
Mew is not evolved, and will not evolve.
Ability
Synchronize: Passes a burn, poison, or paralysis to the foe.
Move Set
Level up (edit)
Lv
Move Name
Type
Category
Pwr.
Cldwn.
Dur.
Acc.
Effect %
Target
0
Pound
40
100%
Single
0
Reflect Type
-
%
Single
0
Transform
-
30
Always
Single
Copies target's image and moves (not abilities and levels).
User's another moves cannot be used.
User shifts to whatever new target pops up.
10
Mega Punch
80
1.2
85%
Single
(No additional effects.)
20
Metronome
N/A
2.4
Can't Miss
Single
Randomly uses any one of all moves (even not in user's movelist).
30
Psychic
90
1.2
100%
Single
May lower target's Sp. Defense.
40
Barrier
-
3.6
Always
Self
Raises user's Defense by 2.
50
AncientPower
60
1.2
100%
10%
Single
May raise user's Attack, Defense, Sp. Attack, Sp. Defense, Speed by 1.
60
Amnesia
-
3.6
Always
Self
Raises user's Sp. Defense by 2.
70
Me First
-
3.6
Can't Miss
Single
User uses target's active attack with 1.5x damage boost.
User must be faster than target. (buffs/ debuffs would affect the speed)
80
Baton Pass
-
60
-
Can't Miss
100%
Ally
Passes user's buffs and debuffs to allies.
Would accumulate or cancel with the existing buffs/debuffs on allies.
90
Nasty Plot
-
3.6
Always
Self
Raises target's Attack and Sp. Attack by 2.
100
Aura Sphere
90
1.8
Always
Projectile
Type Effectiveness
Main article: List of Pokemon Weaknesses