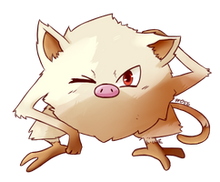 Description
Mankey is a small, monkey like Pokémon which also is like a pig. They are a mostly tan in color, with a round body, long limbs and a tail. They have a pig nose due to it being the Pig Monkey species. Mankey are also renowned for their pointy ears and medium length fur. They have triangular eyes with a red iris, this clearly represents the anger this Pokémon is known for.
Location
Evolution
Ability
Vital Spirit: Prevents Pokemon from sleep.
Anger Point: Maximizes Attack after receiving a critical hit.
Defiant: Raises Attack when stats are lowered.
Move Set
Level up (edit)
Lv
Move Name
Type
Category
Pwr.
Cldwn.
Dur.
Acc.
Effect %
Target
0
Covet
-
60
-
100%
-
Single
Takes target's held item.
No effect if target does not have one.
0
Scratch
40
100%
Single
0
Low Kick
N/A
1.2
100%
Single
Power varies with target's weight (20-120)
0
Leer
-
2.4
100%
100%
Single
Lowers target's Defence by 1.
0
Focus Energy
-
6
Can't Miss
Self
Raises user's critical hit ratio level by 1.
9
Fury Swipes
18
1.2
80%
Single
2-5 attacks in a row.
13
Karate Chop
50
1.2
100%
Single
Critical hit chance * 2.
17
Seismic Toss
N/A
1.2
100%
Single
Power equals to user's effective level.
21
Screech
-
85%
Single
25
Assurance
50
1.2
100%
Single
Power doubled when user has less than half HP.
33
Swagger
-
90%
Single
37
Cross Chop
100
1.2
80%
Single
Critical hit chance * 2.
41
Thrash
120
100%
Single
45
Punishment
N/A
1.2
100%
Single
Power increases as target possess more buffs.
49
Close Combat
120
1.2
100%
100%
Single
Lower user's Defense and Sp. Defense by 1.
53
Final Gambit
N/A
3.6
100%
Single
User faints to deal target the damage equal to user's max HP.
Damage Taken
Main article: List of Pokemon Weaknesses
Ad blocker interference detected!
Wikia is a free-to-use site that makes money from advertising. We have a modified experience for viewers using ad blockers

Wikia is not accessible if you've made further modifications. Remove the custom ad blocker rule(s) and the page will load as expected.