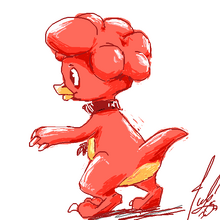 Description
Magby's state of health is determined by observing the fire it breathes. If the Pokémon is spouting yellow flames from its mouth, it is in good health. When it is fatigued, black smoke will be mixed in with the flames.
Its magma-like blood circulates throughout its body. Its body temperature is around 1,100 degrees F. 
It naturally spits an 1100-degree flame. It is said when many appear, it heralds a volcanic eruption.
Location
Breed female Magmar or Magmortar.
Evolution
Ability
Move Set
Level up (edit)
Lv
Move Name
Type
Category
Pwr.
Cldwn.
Dur.
Acc.
Effect %
Target
1
Smog
20
1.2
70%
40%
Single
May poison the target.
1
Leer
-
2.4
100%
100%
Single
Lowers target's Defence by 1.
7
Ember
40
1.2
100%
10%
Single
May burn the target.
10
Smokescreen
-
100%
Single
16
Faint Attack
60
1.2
Always
Single
Always hit target (except protected)
19
Fire Spin
35
1.2
85%
Single
Traps target for 4-5 game ticks.
Only one trap can happen on each target.
25
Confuse Ray
-
2.4
100%
100%
Single
Confuses the target when hit.
28
Flame Burst
70
2.4
100%
Around
(No additional effects.)
34
Fire Punch
75
1.2
100%
10%
Single
May burn the target.
36
Lava Plume
80
2.4
100%
30%
Around
May burn the target.
43
Flamethrower
95
1.8
100%
10%
Beam
May burn the target.
46
Sunny Day
-
60
60
Always
All
Powers up fire-type moves (x1.5), weakens water-type moves(x0.5).
Lowers accuracy of Thunder as 50%.
Lowers SolarBeam cooldown.
Changes Weather Ball to be fire-typed.
Affects Photosynthesis, Morning Sun, Moonlight recovery.
Doubles the buffs of Growth.
49
Fire Blast
120
1.8
85%
10%
Projectile
May burn the target.
110
Blast Burn
150
3.6
90%
Projectile
3 projectiles released.
Damage Taken
Main article: List of Pokemon Weaknesses
Ad blocker interference detected!
Wikia is a free-to-use site that makes money from advertising. We have a modified experience for viewers using ad blockers

Wikia is not accessible if you've made further modifications. Remove the custom ad blocker rule(s) and the page will load as expected.