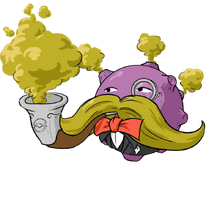 Description
Koffing embodies toxic substances. Its thin, balloon-like body is inflated by horribly toxic gases. It reeks when it is nearby. It mixes the toxins with raw garbage to set off a chemical reaction that results in a terribly powerful poison gas. The higher the temperature, the more gas is concocted by this Pokémon. Getting up close to a Koffing will give you a chance to observe, through its thin skin, the toxic gases swirling inside. It blows up at the slightest stimulation.
Location
Transfer
Breed Weezing
Evolution
Ability
Levitate: Gives full immunity to all Ground-type moves.
Move Set
Level up (edit)
Lv
Move Name
Type
Category
Pwr.
Cldwn.
Dur.
Acc.
Effect %
Target
0
Poison Gas
-
1.8
80%
100%
Single
Poisons the target when hit.
0
Tackle
50
1.2
100%
Single
6
Smog
20
1.2
70%
40%
Single
May poison the target.
10
Smokescreen
-
100%
Single
15
Assurance
50
1.2
100%
Single
Power doubled when user has less than half HP.
19
Clear Smog
50
3.6
Can't miss
Single
Removes buffs and debuffs in target.
24
Selfdestruct
400
6
100%
All
User faints after attack.
28
Sludge
65
1.2
100%
30%
Single
May poison the target.
33
Haze
-
30
Always
All
Removes all buffs and debuffs of all pokemons in battlefield.
37
Gyro Ball
N/A
1.2
-
100%
-
Single
Slower the user is, higher the power is. (=25*T/U, max. 150)
(buffs/ debuffs would affect the speed)
42
Explosion
600
6
100%
All
User faints after attack. Does not damage allies.
46
Sludge Bomb
90
1.2
100%
30%
Single
May poison the target.
51
Destiny Bond
-
1.2
Always
Single
Target dealing the final blow faints if user faints. Cannot hit target of higher level.
55
Memento
-
6
100%
All
Lowers all enemies' Attack, Defense, Sp. Attack, Sp. Defense by 6.
Damage Taken
Main article: List of Pokemon Weaknesses
Ad blocker interference detected!
Wikia is a free-to-use site that makes money from advertising. We have a modified experience for viewers using ad blockers

Wikia is not accessible if you've made further modifications. Remove the custom ad blocker rule(s) and the page will load as expected.