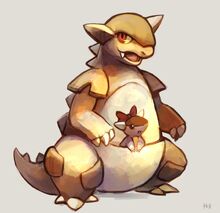 Description
The infant rarely ventures out of its mother's protective pouch until it is three years old. If you come across a young Kangaskhan playing by itself, you must never disturb it or attempt to catch it. The baby Pokémon's parent is sure to be in the area, and it will become violently enraged at you.
It raises its offspring in its belly pouch and it only lets the baby out to play only when it feels safe.
Location
Transfer
Evolution
Kangaskhan is not evolved, and will not evolve.
Ability
Early Bird: Reduces duration of sleep.
Scrappy: Enables Normal and Fighting moves to hit Ghost Pokemons.
Inner Focus: Prevents Pokemon from flinching.
Move Set
Level up (edit)
Lv
Move Name
Type
Category
Pwr.
Cldwn.
Dur.
Acc.
Effect %
Target
0
Comet Punch
18
1.2
-
85%
-
Single
2-5 attacks in a row.
0
Leer
-
2.4
100%
100%
Single
Lowers target's Defence by 1.
7
Fake Out
40
1.2
100%
100%
Single
Causes target flinch.
Only works once per enemy.
10
Tail Whip
-
2.4
100%
Single
13
Bite
60
1.2
100%
30%
Single
May cause target flinch.
19
Double Hit
35
1.2
90%
Single
Strikes twice per attack.
22
Rage
20
100%
Single
25
Mega Punch
80
1.2
85%
Single
(No additional effects.)
31
Chip Away
70
1.2
-
100%
-
Single
Damage does not depend on Defense/ Sp. Defense stat and buffs.
34
Dizzy Punch
70
1.2
100%
20%
Single
May confuse the target.
37
Crunch
80
1.2
100%
Single
May lower target's Defense by 1.
43
Endure
-
60
Can't Miss
Self
Endures all attack with at least 1 HP.
Works for 3 attacks.
Cannot use if user has 1 HP already.
46
Outrage
120
1.2
-
100%
-
Single
Confuses the user every attack.
49
Sucker Punch
80
1.2
100%
Single
Power halved if target is turned around.
55
Reversal
N/A
1.2
100%
Single
Power increases (20-200) with fewer user's remaining HP.
Damage Taken
Main article: List of Pokemon Weaknesses
Ad blocker interference detected!
Wikia is a free-to-use site that makes money from advertising. We have a modified experience for viewers using ad blockers

Wikia is not accessible if you've made further modifications. Remove the custom ad blocker rule(s) and the page will load as expected.