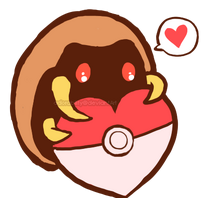 Description
Kabuto is a Pokémon that has been regenerated from a fossil found in what was once the ocean floor long ago. However, in extremely rare cases, living examples have been discovered. The Pokémon has not changed at all for 300 million years.
It is protected by a stiff shell.
Location
Transfer
Ruins of Alph Interior (Silver version) (Sinnoh Invasion)
Evolution
Ability
Swift Swim: Boost Pokemon's Speed under rainy weather.
Battle Armor: Prevents Pokemon from getting critical hits.
Weak Armor: Lowers Defense but raise Speed if Pokemon is hit by physical moves.
Move Set
Level up (edit)
Lv
Move Name
Type
Category
Pwr.
Cldwn.
Dur.
Acc.
Effect %
Target
0
Scratch
40
100%
Single
0
Harden
-
2.4
Can't Miss
Self
Raises user's Defence by 1.
6
Absorb
20
1.2
100%
Single
Heals user of 1/2 damage dealt.
11
Leer
-
2.4
100%
100%
Single
Lowers target's Defence by 1.
16
Mud Shot
55
2.4
95%
100%
Around
Lower target's Speed by 1 when hit.
21
Sand Attack
-
2.4
100%
100%
Around
Lower target's Accuracy by 1. Disables target's ability to carry candy.
26
Endure
-
60
Can't Miss
Self
Endures all attack with at least 1 HP.
Works for 3 attacks.
Cannot use if user has 1 HP already.
31
Aqua Jet
40
1.06
100%
Single
(No additional effects.)
36
Mega Drain
40
1.2
100%
Single
Heals user of 1/2 damage dealt.
41
Metal Sound
-
3.6
-
85%
100%
Single
Lowers target's Sp. Defense by 2.
46
AncientPower
60
1.2
100%
10%
Single
May raise user's Attack, Defense, Sp. Attack, Sp. Defense, Speed by 1.
51
Wring Out
N/A
1.2
100%
Single
Causes damage based on target's remaining HP percentage. (Max. 120)
Damage Taken
Main article: List of Pokemon Weaknesses
Ad blocker interference detected!
Wikia is a free-to-use site that makes money from advertising. We have a modified experience for viewers using ad blockers

Wikia is not accessible if you've made further modifications. Remove the custom ad blocker rule(s) and the page will load as expected.