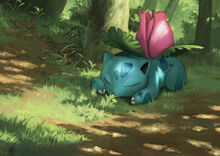 Description
Ivysaur is a dinosaur-like, quadruped Pokémon. It has blue-green skin with darker patches. Two pointed teeth protrude from its upper jaw, and it has narrow red to purple eyes. Each of its feet have three claws on them. The bulb on its back has bloomed into a large pink bud supported by a short brown trunk surrounded by leafy green fronds. The weight of this bud prevents Ivysaur from standing on its hind legs and forces its legs to grow sturdy. When its plant is ready to bloom, it gives off a distinct, strong sweet-smelling aroma and starts swelling.
Location
Evolve Bulbasaur
Evolution
Ability
Overgrow: Powers up Grass-type moves under 1/3 of maximum HP.
Chlorophyll: Raises Pokemon's Speed in sunny weather.
Move Set
Level up (edit)
Lv
Move Name
Type
Category
Pwr.
Cldwn.
Dur.
Acc.
Effect %
Target
0
Tackle
50
1.2
100%
Single
3
Growl
-
2.4
100%
100/15%
Around
Lower target's Attack by 1.
May turn enemy around.
7
Leech Seed
N/A
1.2
90%
Single
Drains 30 physical damage from target and heal 100% of this amount.
9
Vine Whip
35
1.2
100%
Single
(No additional effects.)
13
Poison Powder
-
1.8
75%
100%
Around
Poisons the target when hit.
13
Sleep Powder
-
2.4
75%
100%
Around
Causes targets to sleep if hit.
15
Take Down
90
1.2
85%
25%
Single
It also damages the user a little.
20
Razor Leaf
55
1.2
95%
Single
Critical hit chance * 2.
23
Sweet Scent
-
100%
Single
28
Growth
-
3.6
Can't Miss
100%
Self
Raises user's Attack and Sp. Attack by 1. (2 when Sunny Day is in effect)
31
Double-Edge
120
100%
Single
Damages user by 1/3 of damage dealt.
36
Worry Seed
-
60
Always
Single
Changes target's ability into "Insomnia"
39
Synthesis
-
60
Always
Single
Heals user of HP based on weather.
(Normal: 1/2; Sunny: 2/3; Rain/Sandstorm/Hail: 1/4)
44
SolarBeam
120
2.4
100%
Beam
Shorter move cooldown during Sunny Day.
Damage Taken
Main article: List of Pokemon Weaknesses
Ad blocker interference detected!
Wikia is a free-to-use site that makes money from advertising. We have a modified experience for viewers using ad blockers

Wikia is not accessible if you've made further modifications. Remove the custom ad blocker rule(s) and the page will load as expected.