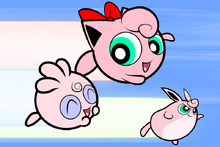 Description
Igglybuff's vocal chords are not sufficiently developed. It would hurt its throat if it were to sing too much. When it sings continuously with all its might, its body steadily turns a deepening pink color. This Pokémon gargles with freshwater from a clean stream.
Igglybuff has a soft and plushy body that feels very much like a marshmallow. Its extremely flexible and elastic body makes it bounce continuously--anytime, anywhere. From this body wafts a gently sweet fragrance that soothes and calms the emotions of its foes.
Location
Breed 2 Jigglypuff
Evolution
Ability
Move Set
Level up (edit)
Lv
Move Name
Type
Category
Pwr.
Cldwn.
Dur.
Acc.
Effect %
Target
0
Sing
-
55%
Around
0
Charm
-
3.6
-
100%
100%
Single
Lowers target's Attack by 2.
5
Defense Curl
-
2.4
-
Can't Miss
-
Self
Raises user's Defense by 1.
Doubles power of Rollout and Ice Ball.
9
Pound
40
100%
Single
13
Sweet Kiss
-
75%
Single
17
Copycat
-
3.6
-
Can't Miss
-
Single
Uses target's active move.
110
Giga Blast
150
3.6
90%
Projectile
3 projectiles released.
Damage Taken
Main article: List of Pokemon Weaknesses
Ad blocker interference detected!
Wikia is a free-to-use site that makes money from advertising. We have a modified experience for viewers using ad blockers

Wikia is not accessible if you've made further modifications. Remove the custom ad blocker rule(s) and the page will load as expected.