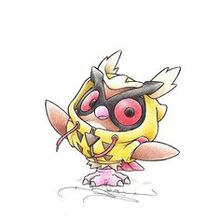 Description
It always stands on one foot. It changes feet  so fast, the movement can rarely be seen.
Hoothoot has an internal organ that senses and tracks the earth's rotation. Using this special organ, this Pokémon begins hooting at precisely the same time every day. In addition, no matter what happens it keeps rhythm by precisely tilting its head in time. Some countries consider it to be a wise friend, versed in the world's ways.
Location
Route 29 (Night)
Buy for 1 SnD coin
Evolution
Ability
Insomnia: Prevents Pokemon from sleeping.
Keen Eye: Prevents other Pokemon from lowering accuracy.
Tinted Lens: Powers up "not very effective" moves.
Move Set
Level up (edit)
Lv
Move Name
Type
Category
Pwr.
Cldwn.
Dur.
Acc.
Effect %
Target
0
Tackle
50
1.2
100%
Single
0
Growl
-
2.4
100%
100/15%
Around
Lower target's Attack by 1.
May turn enemy around.
0
Foresight
-
2.4
Can't Miss
Single
Cancels target's buffs in Evasiveness.
Enables Ghost pokemons be hit by Normal and Fighting moves.
5
Hypnosis
-
2.4
60%
Around
May cause target sleep.
9
Peck
35
1.2
100%
Single
(No additional effects.)
13
Uproar
90
1.8
100%
Single
Wakes up all slept pokemon in battlefield.
17
Reflect
-
60
5.4
%
Ally
Reduces Physical Attack damages by half.
21
Confusion
50
1.2
100%
Single
May confuse target.
25
Echoed Voice
40
1.2
100%
Single
Power increases by 40 for every consecutive successful hit (up to 200), or else power resets.
29
Take Down
90
1.2
85%
25%
Single
It also damages the user a little.
33
Air Slash
75
1.2
95%
30%
Single
May cause target flinch.
37
Zen Headbutt
80
1.2
90%
20%
Single
May cause target flinch.
41
Synchronoise
70
2.4
100%
All
Attacks target and ally of the same type.
45
Extrasensory
80
1.2
100%
Single
May cause target flinch.
49
Psycho Shift
-
100%2
90%
Single
Transfers user's status problem to target.
53
Roost
-
100%3
Always
Self
Heals user 50% of max HP in 5 parts within 5 game ticks.
57
Dream Eater
100
1.2
100%
Single
Heals user of 1/2 damage dealt. Enemy must be in sleep.
Damage Taken
Main article: List of Pokemon Weaknesses
Ad blocker interference detected!
Wikia is a free-to-use site that makes money from advertising. We have a modified experience for viewers using ad blockers

Wikia is not accessible if you've made further modifications. Remove the custom ad blocker rule(s) and the page will load as expected.