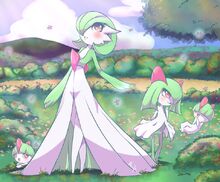 Description
Gardevoir has the ability to read the future. If it senses impending danger to its TRAINER, this Pokémon is said to unleash its psychokinetic energy at full power to create a small black hole, even at the risk of its own life.
Gardevoir has the psychokinetic power to distort the dimensions and create a small black hole. It apparently does not feel the pull of gravity because it supports itself with psychic power.
Location
Evolve Kirlia
Evolution
Ability
Synchronize: Passes a burn, poison, or paralysis to the foe.
Trace: Copies target's ability.
Telepathy: Anticipates an ally's attack and dodges it.
Move Set
Level up (edit)
Lv
Move Name
Type
Category
Pwr.
Cldwn.
Dur.
Acc.
Effect %
Target
0
Healing Wish
-
6
Always
Ally
Heals and cures for full HP and all status.linebreakerUser faints after attack.
0
Growl
-
2.4
100%
100/15%
Around
Lower target's Attack by 1.
May turn enemy around.
6
Confusion
50
1.2
100%
Single
May confuse target.
10
Double Team
-
2.4
Can't Miss
100%
Self
Raises user's Agility by 1.
12
Teleport
-
6
Always
Self
Moves user to another spot in battlefield.
Does not work if there is only one or if user is trapped.
17
Wish
-
30
Always
Ally
Heals the ally standing on the user's spot for 50% maximum HP after 7 game ticks.
22
Magical Leaf
60
1.2
Always
Single
Always hit target (except protected)
25
Heal Pulse
-
100%2
Always
All
Heals target and ally for 1/4 of maximum HP.linebreakerDoes not heal the user.
33
Calm Mind
-
3.6
Always
Self
Raises user's Sp. Attack and Sp. Defense by 1.
40
Psychic
90
1.2
100%
Single
May lower target's Sp. Defense.
45
Imprison
-
48
100%
Single
Bans target's active move for 12 seconds.
53
Future Sight
100
1.2
100%
Single
Target is hit after 3 game ticks.
60
Captivate
-
3.6
-
100%
100%
Single
Lowers target's Sp. Attack by 2.
Does not work on same gender, genderless, or Oblivious pokemons.
65
Hypnosis
-
2.4
60%
Around
May cause target sleep.
73
Dream Eater
100
1.2
100%
Single
Heals user of 1/2 damage dealt. Enemy must be in sleep.
80
Stored Power
20
1.2
100%
Single
More buffs the user has, greater the power is. (20-860)
Damage Taken
Main article: List of Pokemon Weaknesses
Ad blocker interference detected!
Wikia is a free-to-use site that makes money from advertising. We have a modified experience for viewers using ad blockers

Wikia is not accessible if you've made further modifications. Remove the custom ad blocker rule(s) and the page will load as expected.