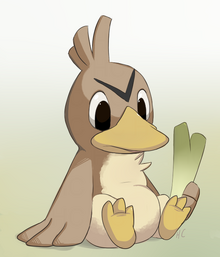 Description
Farfetch'd resembles a brown duck with a white underbelly. It has a yellow beak and a V-shaped, black marking on its forehead. It has wings as big as its body, which appear to be prehensile enough to substitute for hands. It has yellow legs with webbed feet.
It can't live without the stalk it holds. That's why it defends the stalk from attackers with its life. If anyone tries to disturb where the essential plant stalks grow, it uses its own stalk to thwart them. If it eats the plant stalk it carries as emergency rations, it runs off in search of a new stalk. The plant stalk is also used as its weapon. The stalk is used like a sword to cut all sorts of things.
Location
Evolution
Farfetch'd is not evolved and will not evolve.
Ability
Keen Eye: Prevents other Pokemon from lowering accuracy.
Inner Focus: Prevents Pokemon from flinching.
Defiant: Raises Attack when stats are lowered.
Move Set
Level up (edit)
Lv
Move Name
Type
Category
Pwr.
Cldwn.
Dur.
Acc.
Effect %
Target
0
Poison Jab
80
1.2
100%
30%
Single
May poison the target.
0
Peck
35
1.2
100%
Single
(No additional effects.)
0
Sand Attack
-
2.4
100%
100%
Around
Lower target's Accuracy by 1. Disables target's ability to carry candy.
0
Leer
-
2.4
100%
100%
Single
Lowers target's Defence by 1.
0
Fury Cutter
20
1.2
-
95%
-
Single
Power increases by 20 for every 4 consecutive successful hits (up to 160), or else power resets.
7
Fury Attack
15
1.2
85%
Single
2-5 attacks in a row
9
Knock Off
20
1.8
100%
Single
Disables target's held item. Bans target from holding any candy.
13
Aerial Ace
60
1.2
Always
Single
Always hit target (except protected)
19
Slash
70
100%
Single
21
Air Cutter
55
1.2
95%
Single
Critical hit chance * 2.
25
Swords Dance
-
%
Self
31
Agility
-
3.6
Always
Self
Raises user's Agliity by 2.
33
Night Slash
70
1.2
100%
Single
Critical hit chance * 2.
37
Acrobatics
55
1.2
100%
Single
Power doubles if user is not holding items.
43
Feint
30
0.9
100%
Single
Could hit targets under Protect and Detect and cancel their effect.
45
False Swipe
40
1.2
100%
Single
Target is left with at least 1 HP.
49
Air Slash
75
1.2
95%
30%
Single
May cause target flinch.
55
Brave Bird
120
1.2
100%
Single
Damages user by 1/3 of damage dealt.
Damage Taken
Main article: List of Pokemon Weaknesses
Ad blocker interference detected!
Wikia is a free-to-use site that makes money from advertising. We have a modified experience for viewers using ad blockers

Wikia is not accessible if you've made further modifications. Remove the custom ad blocker rule(s) and the page will load as expected.