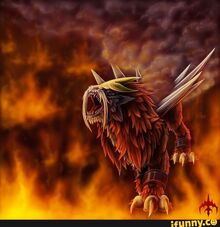 Description
Entei is a massive brown lion-like creature with a long, thick mane covering its neck. It has gray plates surrounding the cape that makes it look as if smoke is coming out of a crater on its back. Entei has white paws and black cuff-like bands on its legs; It has a red face with a white plate that resembles a handlebar mustache on its face, and a three-pointed yellow crest on its forehead. Entei's head appears to resemble a kabuto, a samurai helmet.
Entei embodies the passion of magma. This Pokémon is thought to have been born in the eruption of a volcano. It sends up massive bursts of fire that utterly consume all that they touch. It is said that one is born every time a new volcano appears.
Location
Random chance in every encounter (Shadow and Shiny can appear as well in the wild)
Evolution
This Pokemon is not evolved, and will not evolve.
Ability
Pressure: Raises target's move cooldown.
Flash Fire: Powers up Fire-type moves if Pokemon is hit by one.
Move Set
Level up (edit)
Lv
Move Name
Type
Category
Pwr.
Cldwn.
Dur.
Acc.
Effect %
Target
8
Ember
40
1.2
100%
10%
Single
May burn the target.
15
Roar
-
100%
Single
22
Fire Spin
35
1.2
85%
Single
Traps target for 4-5 game ticks.
Only one trap can happen on each target.
29
Stomp
65
100%
Single
36
Flamethrower
95
1.8
100%
10%
Beam
May burn the target.
43
Swagger
-
90%
Single
50
Fire Fang
65
1.2
95%
10%
Single
May burn and/or flinch the target.
57
Lava Plume
80
2.4
100%
30%
Around
May burn the target.
64
Extrasensory
80
1.2
100%
Single
May cause target flinch.
85
Eruption
N/A
2.4
100%
Around
Power depends on user's remaining HP. (max. 150)
Damage Taken
Main article: List of Pokemon Weaknesses