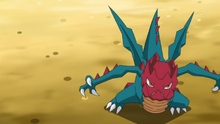 Description
Druddigon is a large, blue, draconic Pokémon with medium-sized wings shaped like thistle leaves. Its bright red head is harder than rock and is very rough. It has a set of glaring, ferocious pale yellow irises. Its arms are longer than its legs, giving it the appearance of a hunchback. It has a thick, moderately-sized tail and sharp claws on both the hands and feet. It also has tall, conical, red spikes; three on each arm, one on each shoulder, two on each leg, and four on its tail. It has a blunt, brutal snout, bearing a maw with no discernible teeth; instead, small fang-like protrusions sprout from its jaws. It has a series of olive, ellipsoid scutes running across its belly.
Location
Lake of rage (Unova Invasion)
Evolution
Druddigon is not evolved, and will not evolve.
Abilities
Move Set
Level up (edit)
Lv
Move Name
Type
Category
Pwr.
Cldwn.
Dur.
Acc.
Effect %
Target
Damage Taken
Main article: List of Pokemon Weaknesses
Ad blocker interference detected!
Wikia is a free-to-use site that makes money from advertising. We have a modified experience for viewers using ad blockers

Wikia is not accessible if you've made further modifications. Remove the custom ad blocker rule(s) and the page will load as expected.