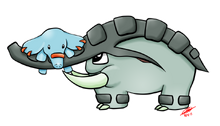 Description
Donphan's favorite attack is curling its body into a ball, then charging at its foe while rolling at high speed. Once it starts rolling, this Pokémon can't stop very easily. If Donphan were to tackle with its hard body, even a house could be destroyed. Using its massive strength, the Pokémon helps clear rock and mud slides that block mountain trails.
It has sharp, hard tusks and a rugged hide. Its tackle is strong enough to knock down a house. The longer and bigger its tusks, the higher its rank in its herd. The tusks take long to grow. This Pokémon's skin is so tough that a normal attack won't even leave a scratch on it.
Location
Evolve Phanpy
Evolution
Ability
Sturdy: Pokemon cannot be knocked out with one hit.
Sand Veil: Raises Pokemon's Evasion under sandstorm.
Move Set
Level up (edit)
Lv
Move Name
Type
Category
Pwr.
Cldwn.
Dur.
Acc.
Effect %
Target
0
Fire Fang
65
1.2
95%
10%
Single
May burn and/or flinch the target.
0
Thunder Fang
65
1.2
-
95%
10%
Single
May cause target paralysis and/or flinch.
0
Horn Attack
65
1.2
100%
Single
(No additional effects.)
0
Growl
-
2.4
100%
100/15%
Around
Lower target's Attack by 1.
May turn enemy around.
0
Defense Curl
-
2.4
-
Can't Miss
-
Self
Raises user's Defense by 1.
Doubles power of Rollout and Ice Ball.
0
Bulldoze
60
2.4
100%
100%
Around
Lowers target's Speed by 1 when hit.
6
Rapid Spin
20
100%
Single
10
Knock Off
20
1.8
100%
Single
Disables target's held item. Bans target from holding any candy.
15
Rollout
30
1.2
90%
Single
Power increases by 30 for every consecutive successful hit (up to 180), or else power resets.
Defense Curl doubles the Power.
19
Magnitude
N/A
1.8
100%
Around
Power varies (10-150).
24
Slam
80
75%
Single
25
Fury Attack
15
1.2
85%
Single
2-5 attacks in a row
31
Assurance
50
1.2
100%
Single
Power doubled when user has less than half HP.
39
Scary Face
-
100%
Single
46
Earthquake
100
2.4
100%
All
Harms allies by 10% of damage.
54
Giga Impact
150
2.4
90%
Single
User suffers 33% recoil damage.
Damage Taken
Main article: List of Pokemon Weaknesses
Ad blocker interference detected!
Wikia is a free-to-use site that makes money from advertising. We have a modified experience for viewers using ad blockers

Wikia is not accessible if you've made further modifications. Remove the custom ad blocker rule(s) and the page will load as expected.