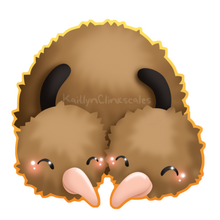 Description
Doduo is a two-headed, bipedal avian Pokémon. Each head has a long sharp beak and two beady black eyes with no discernible sclera. It has a soft but bristly, down-like covering of brown feathers on its body and both heads. The males of the species have black flexible necks, whereas females have brown necks; both genders have brown coloring on their legs. It has two feet, each with four digits ending in a sharp claw.
Location
Transfer
Trade
Evolution
Ability
Move Set
Level up (edit)
Lv
Move Name
Type
Category
Pwr.
Cldwn.
Dur.
Acc.
Effect %
Target
0
Peck
35
1.2
100%
Single
(No additional effects.)
0
Growl
-
2.4
100%
100/15%
Around
Lower target's Attack by 1.
May turn enemy around.
5
Quick Attack
40
1.06
100%
Single
10
Rage
20
100%
Single
14
Fury Attack
15
1.2
85%
Single
2-5 attacks in a row
19
Pursuit
40
1.2
100%
Single
Damage doubled on slower target
23
Uproar
90
1.8
100%
Single
Wakes up all slept pokemon in battlefield.
28
Acupressure
-
3.6
-
Can't Miss
100%
Self
Boosts among Attack, Defence, Sp. Attack, Sp. Defence, Speed, Accuracy, Evasivemess by 1.
32
Double Hit
35
1.2
90%
Single
Strikes twice per attack.
37
Agility
-
3.6
Always
Self
Raises user's Agliity by 2.
41
Drill Peck
80
1.2
100%
Single
(No additional effects.)
46
Endeavor
N/A
1.2
100%
Single
Power increases (3-300) with fewer user's remaining HP.
50
Thrash
120
100%
Single
Damage Taken
Main article: List of Pokemon Weaknesses
Ad blocker interference detected!
Wikia is a free-to-use site that makes money from advertising. We have a modified experience for viewers using ad blockers

Wikia is not accessible if you've made further modifications. Remove the custom ad blocker rule(s) and the page will load as expected.