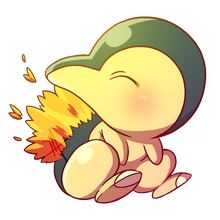 Description
The fire type starter of the Johto region. Named with the two base words "Cinder" and "Quill", he comes from the second region as dex # 155. Speed and Special Attack are Cyndaquil's strong-suits, meaning it's a fast Pokemon good at using special attack moves, like Ember or Eruption.
It is timid and always curls itself up in a ball. When needed, Cyndaquil protects itself by flaring up the flames on its back. The flames are vigorous if the Pokémon is angry. However, if it is tired, the flames splutter fitfully with incomplete combustion.
Location
Starter's Choice
Gold's (Or Crystal's) Dream (Only for that level)
Random chance in every encounter in every invasion
Evolution
Ability
Blaze: Powers up Fire-type moves under 1/3 of maximum HP.
Flash Fire: Powers up Fire-type moves if Pokemon is hit by one.
Move Set
Level up (edit)
Lv
Move Name
Type
Category
Pwr.
Cldwn.
Dur.
Acc.
Effect %
Target
0
Tackle
50
1.2
100%
Single
0
Leer
-
2.4
100%
100%
Single
Lowers target's Defence by 1.
6
Smokescreen
-
100%
Single
10
Ember
40
1.2
100%
10%
Single
May burn the target.
13
Quick Attack
40
1.06
100%
Single
20
Flame Wheel
60
1.2
100%
10%
Single
May burn the target.
22
Defense Curl
-
2.4
-
Can't Miss
-
Self
Raises user's Defense by 1.
Doubles power of Rollout and Ice Ball.
28
Flame Charge
50
1.2
100%
Single
Raises user's Speed by 1.
31
Swift
60
1.2
Always
Single
4 attacks in a row.
37
Lava Plume
80
2.4
100%
30%
Around
May burn the target.
40
Flamethrower
95
1.8
100%
10%
Beam
May burn the target.
46
Inferno
100
1.2
50%
100%
Single
Burns the target if hit.
49
Rollout
30
1.2
90%
Single
Power increases by 30 for every consecutive successful hit (up to 180), or else power resets.
Defense Curl doubles the Power.
55
Double-Edge
120
100%
Single
Damages user by 1/3 of damage dealt.
58
Eruption
N/A
2.4
100%
Around
Power depends on user's remaining HP. (max. 150)
Damage Taken
Main article: List of Pokemon Weaknesses