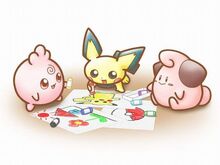 Description
On nights with many shooting stars, Cleffa can be seen dancing in a ring. Because of its unusual, star-like silhouette, people believe that it came here on a meteor. They dance through the night and stop only at the break of day, when these Pokémon quench their thirst with the morning dew.
Location
Breed 2 Clefairy
Union Cave all floors (Sinnoh Invasion)
Evolution
Ability
Move Set
Level up (edit)
Lv
Move Name
Type
Category
Pwr.
Cldwn.
Dur.
Acc.
Effect %
Target
1
Pound
40
100%
Single
1
Charm
-
3.6
-
100%
100%
Single
Lowers target's Attack by 2.
4
Encore
-
60
30
100%
Single
Target cannot switch moves.
7
Sing
-
55%
Around
10
Sweet Kiss
-
75%
Single
13
Copycat
-
3.6
-
Can't Miss
-
Single
Uses target's active move.
16
Magical Leaf
60
1.2
Always
Single
Always hit target (except protected)
Damage Taken
Main article: List of Pokemon Weaknesses
Ad blocker interference detected!
Wikia is a free-to-use site that makes money from advertising. We have a modified experience for viewers using ad blockers

Wikia is not accessible if you've made further modifications. Remove the custom ad blocker rule(s) and the page will load as expected.