Description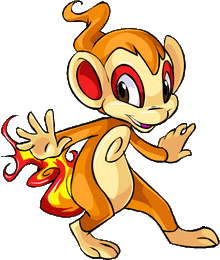 Chimchar is a bipedal Pokémon resembling a chimpanzee. Its fur is primarily a shade of orange, though its face, outer ears, underbelly, hands, and feet are light yellow. Its rear has a small, round, red patch that is usually obscured by flames produced by burning gas in its stomach. These flames go out when it goes to sleep, and burn weakly when it feels ill. Its ears are large in comparison to its head size and red inside. It has two pointed teeth in its upper jaw. Chimchar has red markings nearly surrounding its eyes, a swirl-like symbol on its chest, and five fingers on its hands with three toes on its feet. It has a swirly crest of hair on its head. Being very agile, it is able to climb the rocky ledges of tall mountains, where it lives.
Location
Random chance in every encounter in Sinnoh Invasion
Evolution
Ability
Blaze: Powers up Fire-type moves under 1/3 of maximum HP.
Iron Fist: Raises the power of punching moves.
Move Set
Level up (edit)
Lv
Move Name
Type
Category
Pwr.
Cldwn.
Dur.
Acc.
Effect %
Target
1
Scratch
40
100%
Single
1
Leer
-
2.4
100%
100%
Single
Lowers target's Defence by 1.
7
Ember
40
1.2
100%
10%
Single
May burn the target.
9
Taunt
-
1.2
100%
Around
Causes targets to aim at user.
15
Fury Swipes
18
1.2
80%
Single
2-5 attacks in a row.
17
Flame Wheel
60
1.2
100%
10%
Single
May burn the target.
23
Nasty Plot
-
3.6
Always
Self
Raises target's Attack and Sp. Attack by 2.
25
Torment
-
3.6
100%
Around
Raises the cooldown of targets' active moves by 0.6 seconds.
31
Facade
70
1.2
100%
Single
Damage doubles if user is poisoned, burnt, or paralyzed.
33
Fire Spin
35
1.2
85%
Single
Traps target for 4-5 game ticks.
Only one trap can happen on each target.
39
Acrobatics
55
1.2
100%
Single
Power doubles if user is not holding items.
41
Slack Off
-
%
Self
47
Flamethrower
95
1.8
100%
10%
Beam
May burn the target.
Damage Taken
Main article: List of Pokemon Weaknesses
Ad blocker interference detected!
Wikia is a free-to-use site that makes money from advertising. We have a modified experience for viewers using ad blockers

Wikia is not accessible if you've made further modifications. Remove the custom ad blocker rule(s) and the page will load as expected.