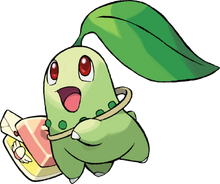 Description
It loves to bask in the sunlight. It uses the leaf on its head to seek out warm places, and it has the ability to check the humidity and temperature.
In battle, Chikorita waves its leaf around to keep the foe at bay. However, a sweet fragrance also wafts from the leaf, becalming the battling Pokémon and creating a cozy, friendly atmosphere all around.
Location
Starter's Choice
Trade
Random chance in every encounter in every invasion
Evolution
Ability
Overgrow: Powers up Grass-type moves under 1/3 of maximum HP.
Leaf Guard: Does not gain status problems in sunny weather.
Move Set
Level up (edit)
Lv
Move Name
Type
Category
Pwr.
Cldwn.
Dur.
Acc.
Effect %
Target
0
Tackle
50
1.2
100%
Single
0
Growl
-
2.4
100%
100/15%
Around
Lower target's Attack by 1.
May turn enemy around.
6
Razor Leaf
55
1.2
95%
Single
Critical hit chance * 2.
9
Poison Powder
-
1.8
75%
100%
Around
Poisons the target when hit.
12
Synthesis
-
60
Always
Single
Heals user of HP based on weather.
(Normal: 1/2; Sunny: 2/3; Rain/Sandstorm/Hail: 1/4)
17
Reflect
-
60
5.4
%
Ally
Reduces Physical Attack damages by half.
20
Magical Leaf
60
1.2
Always
Single
Always hit target (except protected)
23
Natural Gift
N/A
1.2
100%
Single
Power and Type depends on the type of held Berry.
Does not consume the berry.
28
Sweet Scent
-
100%
Single
31
Light Screen
-
60
5.4
%
Ally
Reduces Special Attack damages by half.
34
Body Slam
85
1.2
-
100%
30%
Single
May cause target paralysis.
39
Safeguard
-
60
Always
Ally
Cures status problems and prevents any for 5.4 seconds.
42
Aromatherapy
-
60
Always
Ally
Cures allies of any status problems (Sleep, Poison, Paralysis, Burn, Frozen)
45
SolarBeam
120
2.4
100%
Beam
Shorter move cooldown during Sunny Day.
Damage Taken
Main article: List of Pokemon Weaknesses
Ad blocker interference detected!
Wikia is a free-to-use site that makes money from advertising. We have a modified experience for viewers using ad blockers

Wikia is not accessible if you've made further modifications. Remove the custom ad blocker rule(s) and the page will load as expected.