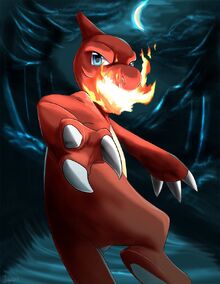 Description
Charmeleon is a bipedal, reptilian creature. It has crimson scales and a cream underside. There is a horn-like protrusion on the back of its head, and it has narrow green eyes and a long snout. It has relatively long arms with three sharp claws. Its short legs have feet with three claws and cream-colored soles. The tip of its long, powerful tail has a flame burning on it. The temperature rises to unbearable levels if Charmeleon swings its tail.
Location
Evolve Charmander
Evolution
Ability
Blaze: Powers up Fire-type moves under 1/3 of maximum HP.
Solar Power: Raises Sp. Attack but lowers HP under sunny weather.
Move Set
Level up (edit)
Lv
Move Name
Type
Category
Pwr.
Cldwn.
Dur.
Acc.
Effect %
Target
0
Scratch
40
100%
Single
0
Growl
-
2.4
100%
100/15%
Around
Lower target's Attack by 1.
May turn enemy around.
7
Ember
40
1.2
100%
10%
Single
May burn the target.
10
Smokescreen
-
100%
Single
17
Dragon Rage
N/A
1.2
-
100%
-
Single
Always hit for 40 damage.
21
Scary Face
-
100%
Single
28
Fire Fang
65
1.2
95%
10%
Single
May burn and/or flinch the target.
32
Flame Burst
70
2.4
100%
Around
(No additional effects.)
39
Slash
70
100%
Single
43
Flamethrower
95
1.8
100%
10%
Beam
May burn the target.
50
Fire Spin
35
1.2
85%
Single
Traps target for 4-5 game ticks.
Only one trap can happen on each target.
54
Inferno
100
1.2
50%
100%
Single
Burns the target if hit.
Damage Taken
Main article: List of Pokemon Weaknesses
Ad blocker interference detected!
Wikia is a free-to-use site that makes money from advertising. We have a modified experience for viewers using ad blockers

Wikia is not accessible if you've made further modifications. Remove the custom ad blocker rule(s) and the page will load as expected.