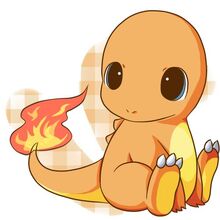 Description
Charmander is a bipedal, reptilian Pokémon with an orange body, though its underside and soles are cream-colored. It has two small fangs visible in its upper and lower jaws and blue eyes. Its arms and legs are short with four fingers and three clawed toes. A fire burns at the tip of this Pokémon's slender tail, and has blazed there since Charmander's birth. The flame can be used as an indication of Charmander's health and mood, burning brightly when the Pokémon is strong, weakly when it is exhausted, wavering when it is happy, and blazing when it is enraged. It is said that Charmander dies if its flame goes out.
Location
Transfer from PTD 1
Trade
Gift for beating Blaine's Gym Challenge (with Charizardite X)
Random chance to appear in every encounter in every invasion
Evolution
Ability
Blaze: Powers up Fire-type moves under 1/3 of maximum HP.
Solar Power: Raises Sp. Attack but lowers HP under sunny weather.
Move Set
Level up (edit)
Lv
Move Name
Type
Category
Pwr.
Cldwn.
Dur.
Acc.
Effect %
Target
0
Scratch
40
100%
Single
0
Growl
-
2.4
100%
100/15%
Around
Lower target's Attack by 1.
May turn enemy around.
7
Ember
40
1.2
100%
10%
Single
May burn the target.
10
Smokescreen
-
100%
Single
16
Dragon Rage
N/A
1.2
-
100%
-
Single
Always hit for 40 damage.
19
Scary Face
-
100%
Single
25
Fire Fang
65
1.2
95%
10%
Single
May burn and/or flinch the target.
28
Flame Burst
70
2.4
100%
Around
(No additional effects.)
34
Slash
70
100%
Single
37
Flamethrower
95
1.8
100%
10%
Beam
May burn the target.
43
Fire Spin
35
1.2
85%
Single
Traps target for 4-5 game ticks.
Only one trap can happen on each target.
46
Inferno
100
1.2
50%
100%
Single
Burns the target if hit.
110
Blast Burn
150
3.6
90%
Projectile
3 projectiles released.
Damage Taken
Main article: List of Pokemon Weaknesses
Ad blocker interference detected!
Wikia is a free-to-use site that makes money from advertising. We have a modified experience for viewers using ad blockers

Wikia is not accessible if you've made further modifications. Remove the custom ad blocker rule(s) and the page will load as expected.